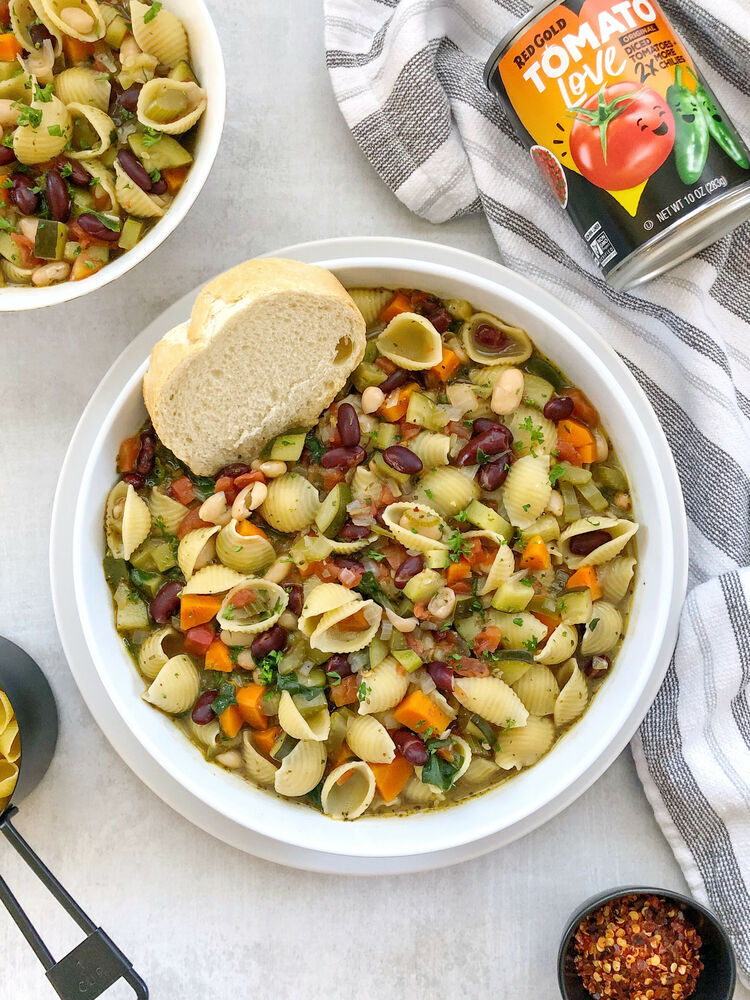 Vegan Minestrone Soup
"This light but hearty vegetable based soup is perfect for any time of year and is loaded with beans and pasta. The Red Gold Tomato Love Original Diced Tomatoes + 2X More Chilies lend a bit of heat to your traditional Minestrone. We suggest adding a squeeze of lemon and topping with freshly chopped parsley, red pepper flakes and nutritional yeast." @theurbanlife
"This light but hearty vegetable based soup is perfect for any time of year and is loaded with beans and pasta. The Red Gold Tomato Love Original Diced Tomatoes + 2X More Chilies lend a bit of heat to your traditional Minestrone. We suggest adding a squeeze of lemon and topping with freshly chopped parsley, red pepper flakes and nutritional yeast." @theurbanlife
Ingredients
COPY INGREDIENTS
2 tablespoons olive oil
1 yellow onion, diced
2 large carrots, diced
2 celery stalks, diced
2 zucchinis, diced
3 garlic cloves, minced
1 tablespoon Italian seasoning
6 cups vegetable broth
1 can Red Gold Tomato Love® Medium Diced Tomatoes + 2X More Chilies 10 oz
1 (15 ounce) can cannellini beans, rinsed and drained
1 (15 ounce) can dark red kidney beans, rinsed and drained
1 1/2 cups Ditalini pasta
1 cup spinach, chopped
salt, to taste
freshly ground black pepper, to taste
Instructions
Heat oil in a large pot over medium heat. Add onion, carrots, and celery. Let cook until soft. Add zucchini and garlic. Season with Italian seasoning, salt and pepper.
Let continue to cook for about 3 minutes, add vegetable broth, diced tomatoes + chilies, cannellini beans, and kidney beans. Raise heat and bring to a boil.
Stir in pasta and let cook for about 10 minutes, until pasta is cooked. Remove from heat and stir in spinach. Adjust seasoning to taste, serve warm.