Queso Chicken Foil Packet

These easy to make and even easier to clean up (just throw the foil in your recycle bin) and everyone will love them! Foil Packets are great for camping, backyard barbecues, or busy weeknight dinners. Pile all of your ingredients in the foil packet, seal, and bake or grill - that's it! Our Queso version has rice, taco seasoning our Petite Diced Tomatoes with Green Chilies, chicken, corn, bell pepper, and of course melty cheese.

Summertime and Family Time

Summer is time for family and making memories. That's why we have plenty of easy-to-make recipes that won't keep you in the kitchen and outside instead. We pride ourselves on excellent quality and so does ChefsBest®, which is why Red Gold and Redpack Whole Peeled Tomatoes received the ChefsBest® Excellence Award. Before they are chopped, diced, crushed, or sauced, all of our products start from our whole tomatoes, therefore you can expect the same award-winning quality in every meal. You may not think of Red Gold for your summer meals, but with our full lineup of tomato products including Ketchup, Salsa, and BBQ sauce, you need to!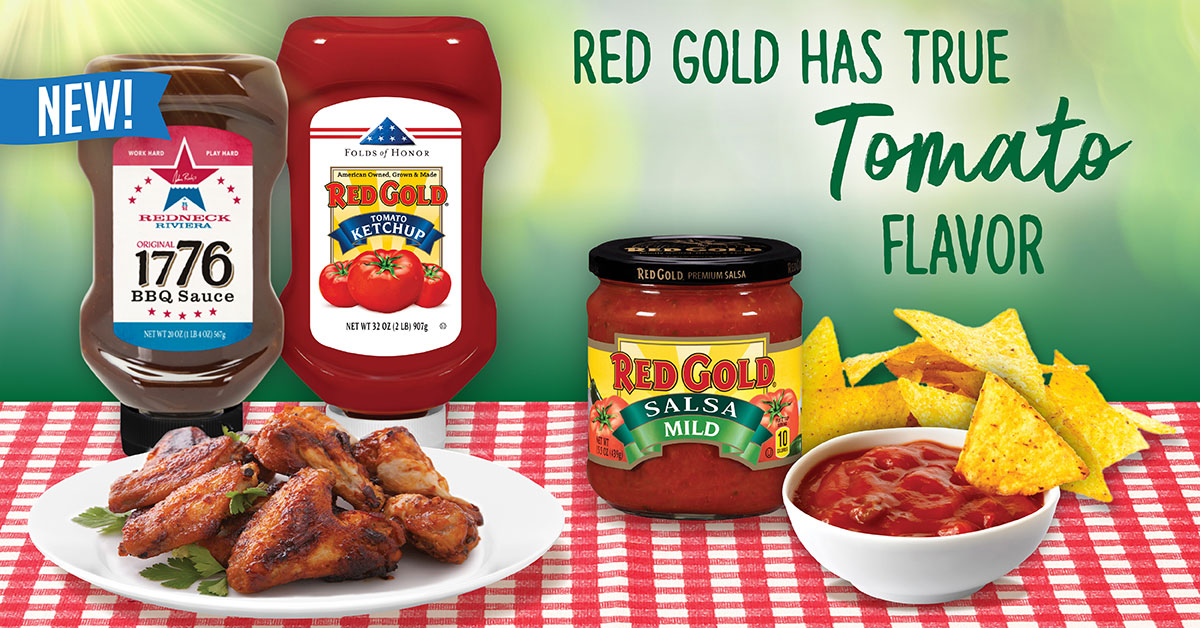 For over 75 years, providing the highest quality tomato products has been our family mission. Made with you in mind, our tomatoes are picked at the peak of ripeness and steam packed fresh, with Non-GMO ingredients and no artificial flavors, colors or preservatives. They are then packed in Non-BPA lined cans to preserve their true tomato flavor without a 'can' taste.

Red Gold Tomato Love
New from Red gold, Tomato Love begins with the finest tomatoes grown on local family farms. Picked ripe off the vine, we toss in lots of fresh chilies to create a tomato love affair. It's tomato perfection with incredible freshness and quality.
We Grow 'Em. We Harvest 'Em. We Love 'Em.