Enchilada Casserole
Lean ground beef, Petite Diced Tomatoes with Green Chilies and a taco-flavored mix are layered between corn tortillas. All the flavors of an enchilada served in an easy-to-prepare, comforting Mexican casserole. Your family will request this dish again and again.
Red Gold Tomatoes are Perfect for Your Favorite Recipes
Great food starts with quality ingredients and that is why we are so proud that Red Gold and Redpack Whole Peeled Tomatoes received the ChefsBest® Excellence Award. Whether your favorite recipe calls for chopped, diced, or crushed tomatoes, all of our products start with top-quality whole tomatoes grown on Midwest family farms. Gather everyone around the table this season for unforgettable memories and mouthwatering meals from Red Gold.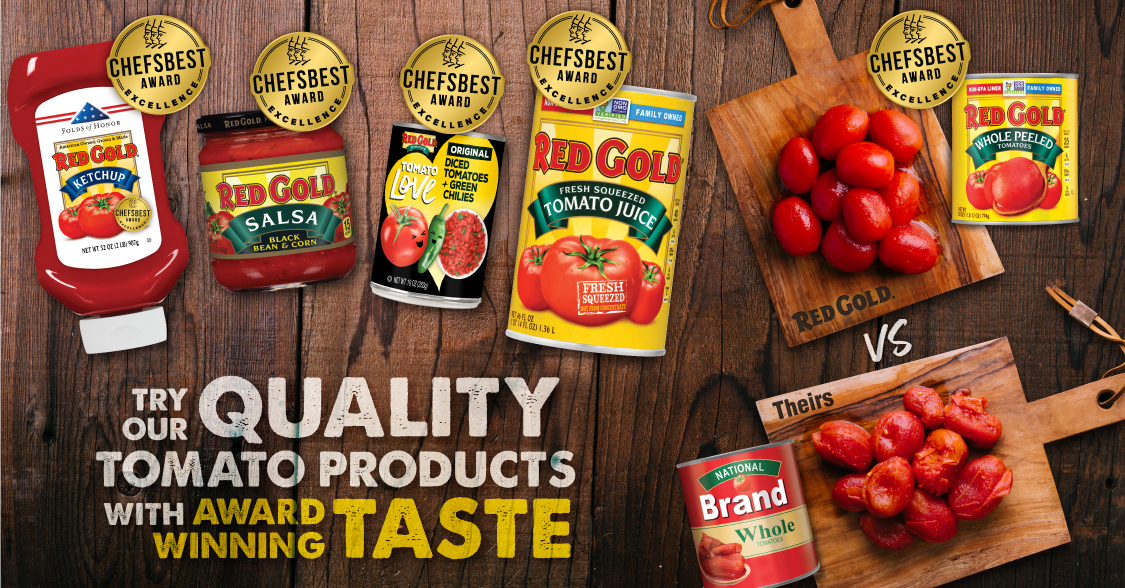 For over 80 years, providing the highest quality tomato products has been our family mission. Made with you in mind, our tomatoes are picked at the peak of ripeness and steam packed fresh, with Non-GMO ingredients and no artificial flavors, colors or preservatives. They are then packed in Non-BPA lined cans to preserve their true tomato flavor without a 'can' taste.

Red Gold Tomato Love
New from Red Gold, Tomato Love begins with the finest tomatoes grown on local family farms. Picked ripe off the vine, we toss in lots of fresh chilies to create a tomato love affair. It's tomato perfection with incredible freshness and quality.
We Grow 'Em. We Harvest 'Em. We Love 'Em.