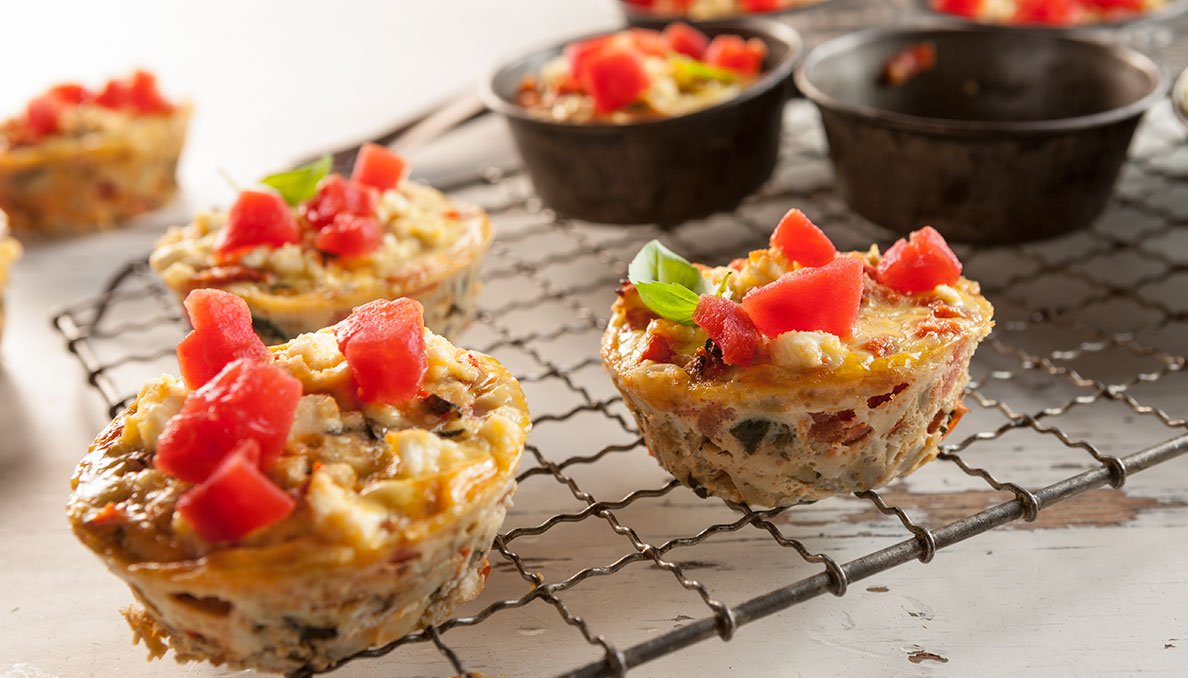 Spinach and Artichoke Egg Cups
Crustless mini quiches made in muffin tins make an easy grab and go breakfast! These egg cups are portable and easy to make on the weekend for breakfast, and then grab-and-go throughout the week...or perfect for a brunch menu or tailgate breakfast
Crustless mini quiches made in muffin tins make an easy grab and go breakfast! These egg cups are portable and easy to make on the weekend for breakfast, and then grab-and-go throughout the week...or perfect for a brunch menu or tailgate breakfast
Ingredients
COPY INGREDIENTS
1 tablespoon extra virgin olive oil
1 small yellow onion, chopped
1 small red bell pepper, seeded and chopped
2 garlic cloves, minced
2 cups fresh spinach, chopped
1 (14.5 ounce) can artichokes, hearts quartered, drained and finely chopped
1 tablespoon fresh chopped oregano
2 tablespoon fresh chopped basil
1/8 teaspoon crushed red pepper
salt and pepper to taste
8 large eggs
3 tablespoons milk
1 (14.5 ounce) can Red Gold® Petite Diced Tomatoes with Garlic & Olive Oil 14.5 oz
2 cups feta cheese, crumbled, or shredded white cheddar cheese
1 cup Grated Parmesan cheese
Instructions
Preheat oven to 350° F. Spray a 12-cup muffin tin with non-stick cooking spray, making sure you completely cover all surfaces of each cup to prevent sticking.
In a large skillet, heat oil over high heat. Add onion and bell pepper, cook until tender; about 3 minutes. Add garlic and cook additional 1-2 minutes until fragrant. Stir in spinach and cook until wilted; about 3 to 4 minutes. Stir in artichoke hearts, oregano, basil, and crushed red pepper. Season with salt and black pepper; stir to combine.
Pour 1/4 cup of mixture into each muffin cup.
In a medium bowl, combine eggs, milk and tomatoes; whisk together. Pour egg mixture evenly between the 12 muffin cups, then top with 1 tablespoon of feta and 2 teaspoons of Parmesan cheese.
Bake for 30 to 35 minutes or until eggs are set and slightly golden around the edges. A knife inserted into the center should come out clean. Remove from the oven and cool for 10 minutes. Sprinkle each egg cup with basil, if desired.
Will keep in refrigerator 3 to 4 days or can be frozen and reheated in microwave.