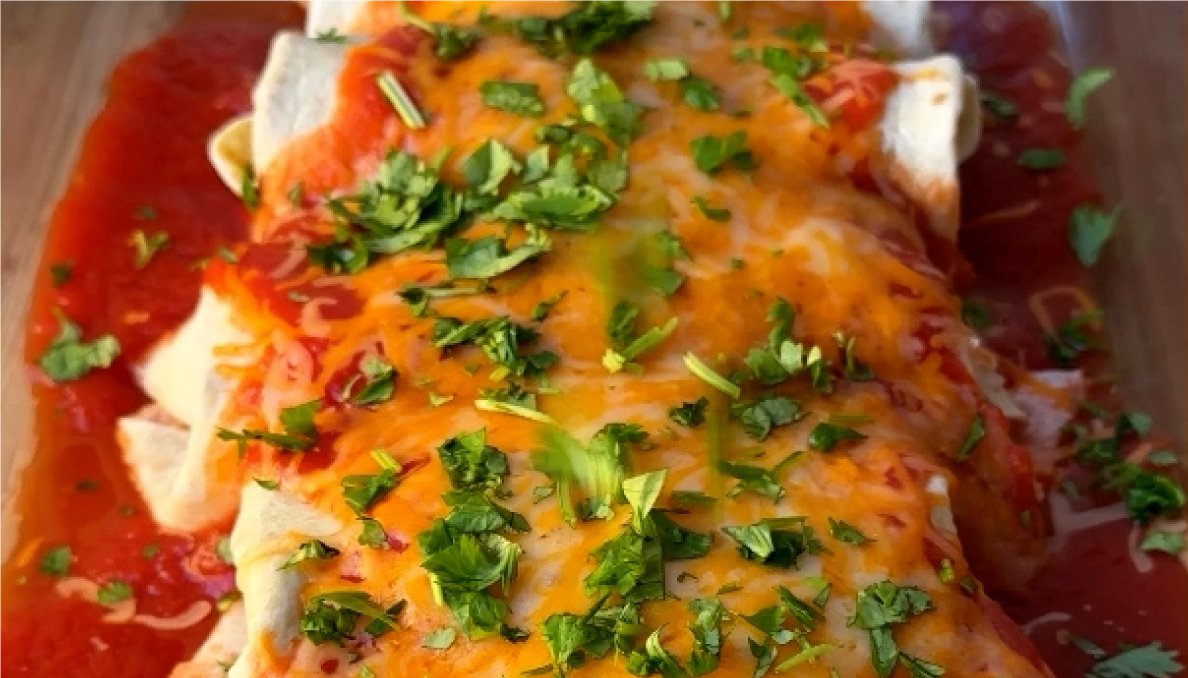 Smothered Burritos
If enchiladas and burritos had a baby, it would be these saucy & cheesy smothered burritos! The filling comes together super easily, and is packed with flavor from Red Gold Tomato Love Medium Diced Tomatoes + 2X More Chilies. Delicious Red Gold Tomato Sauce is poured over top with extra cheese for a saucy and delectable finish to the dish! @alexawhatsfordinner @thefeedfeed
If enchiladas and burritos had a baby, it would be these saucy & cheesy smothered burritos! The filling comes together super easily, and is packed with flavor from Red Gold Tomato Love Medium Diced Tomatoes + 2X More Chilies. Delicious Red Gold Tomato Sauce is poured over top with extra cheese for a saucy and delectable finish to the dish! @alexawhatsfordinner @thefeedfeed
Ingredients
COPY INGREDIENTS
1 Tablespoon extra virgin olive oil
1 red onion, diced
1 pound ground chicken
4 garlic cloves, minced
juice of one lime
2 teaspoons kosher salt & pepper
1 teaspoon cumin
1/2 teaspoon chili powder
1 can Red Gold Tomato Love® Medium Diced Tomatoes + 2X More Chilies 10 oz
8 large flour tortillas
1 can refried beans, 16 oz, heated
1 cup yellow rice, cooked per package instructions
2 cups Mexican cheese, shredded & divided
1 can Red Gold® Tomato Sauce 15 oz
1 bunch fresh cilantro, chopped for garnish
Instructions
Preheat oven to 400°F. Heat olive oil in a large pan over medium-high heat. Once hot, add in red onion and cook until softened, about 5 minutes. Add in ground chicken and cook until heated through and no longer pink, about 7 minutes. Add in garlic cloves, lime juice, salt, pepper, cumin and chili powder, stir to combine. Add in Red Gold Tomato Love Medium Diced Tomatoes + 2Xs More Chilies, stir to heat through, about 2 minutes. Remove from heat and set this mixture aside.
Assemble the burritos. On each tortilla, add in about 1/4 cup of the chicken mixture, plus a heaping spoonful of rice and a heaping spoonful of beans. Add about a tablespoon shredded Mexican cheese on top. Roll up each burrito and place into a large baking dish.
Pour the Red Gold Tomato Sauce over the top of the burritos, plus the remaining Mexican cheese. Bake until the cheese on top is melted and gooey, about 7 minutes. Garnish with chopped cilantro. Enjoy!!