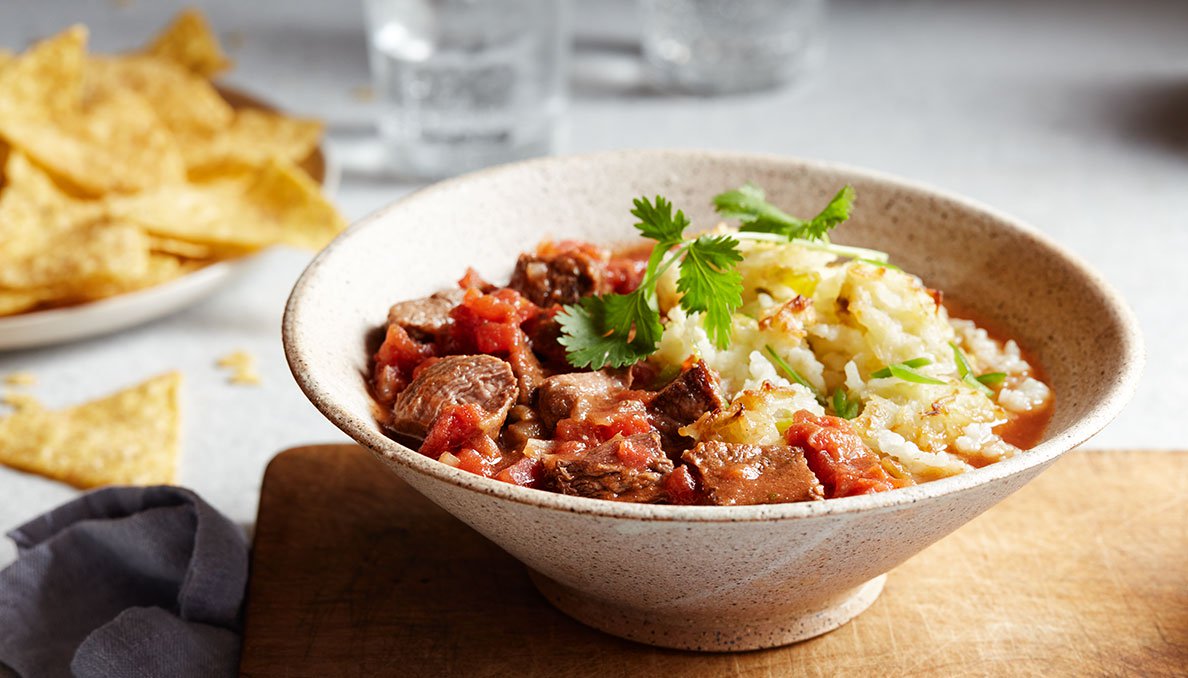 Salsa Beef with Green Chili Rice
Ingredients
COPY INGREDIENTS
Salsa Beef
3 pounds boneless chuck roast, trimmed and cut into 2 inch cubes
4 tablespoons vegetable oil, or oil of choice such as olive or coconut
1 medium onion, chopped
2 teaspoons garlic, chopped or puree
1 (4 ounce can) diced green chilies
1 teaspoon ground coriander
fresh sqeezed lime juice from 1 lime
1/4 cup chopped fresh cilantro, more if desired for garnish
Sea salt and ground black pepper to taste
Green Chili Rice
2 1/2 cups white rice, cooked
1 tablespoon vegetable oil
1 small onion, chopped
1 (4 ounce) can diced green chilies
1 teaspoon garlic, chopped or puree
3/4 cup whole milk
2 teaspoons corn starch
1/2 teaspoon salt
fresh ground black pepper, to taste
6 ounces Pepper Jack Cheese, shredded or cubed
Instructions
Salsa Beef:
Season beef chunks with salt and black pepper. In a large dutch oven heat 2 tablespoons of oil over medium high heat. In batches, brown the beef cubes, remove and reserve.
Add remaining 2 tablespoons of oil and heat. Add onion and cook for 2 to 3 minutes. Add garlic and cook for 1 minute. Add tomato paste and cook to brown for 2 minutes. Add diced tomatoes, coriander, lime juice, and cilantro, and stir to combine. Add the reserved beef and any accumulated meat juices. Cover and bring to a simmer.
Reduce heat to low and cook for 3 to 3 1/2 hours, stirring every 30 minutes or so until meat is pull apart tender. Taste and adjust for salt and pepper.
Cook's Note:
Could also cook in a slow cooker after browning meat by cooking on low for 8 hours or high for 5 hours.
Green Chili Rice:
Preheat oven to 350

°F
Spray an 8x8 baking dish with non-stick spray
Heat a medium to large sauce pan over medium-high heat. Add onion, green chilies, and garlic and cook for 3-4 minutes.
In a small bowl, whisk together the milk and cornstarch. Pour mixture over onions and bring to a low boil and cook for 2-3 minutes to thicken. Add the pepper jack cheese and stir to combine and melt the cheese
Add the cooked rice to the cheese sauce and stir to coat and combine. Pour into the prepared baking dish. Bake for 35-40 minutes until hot and bubbly.