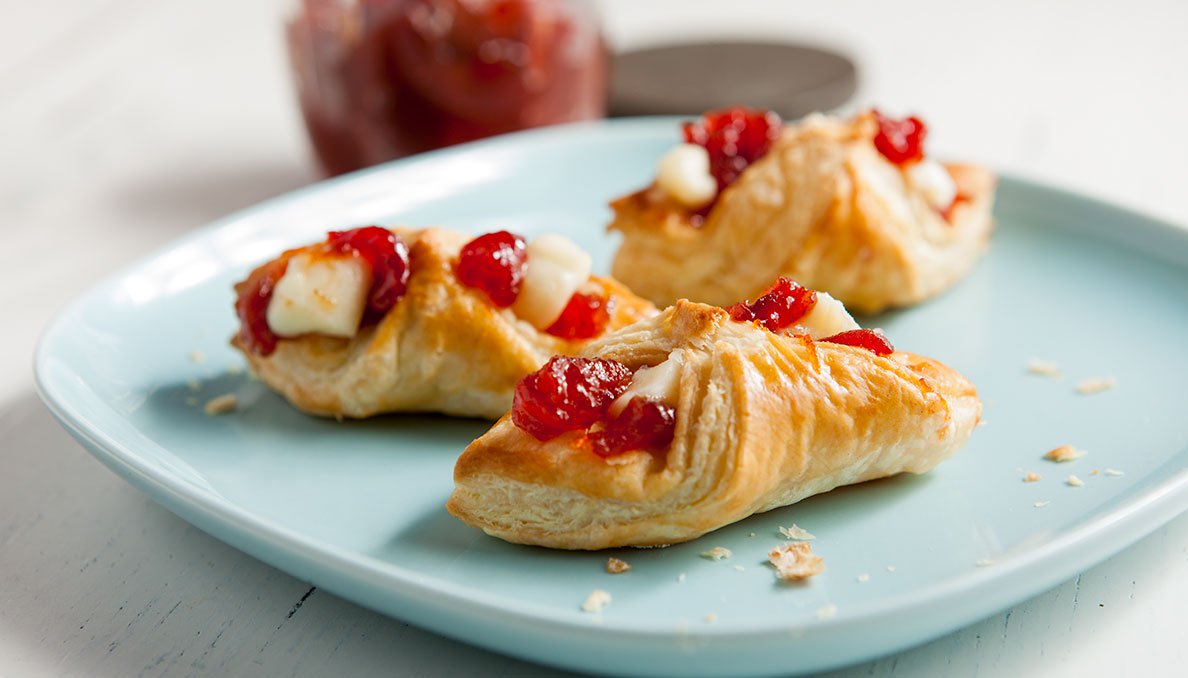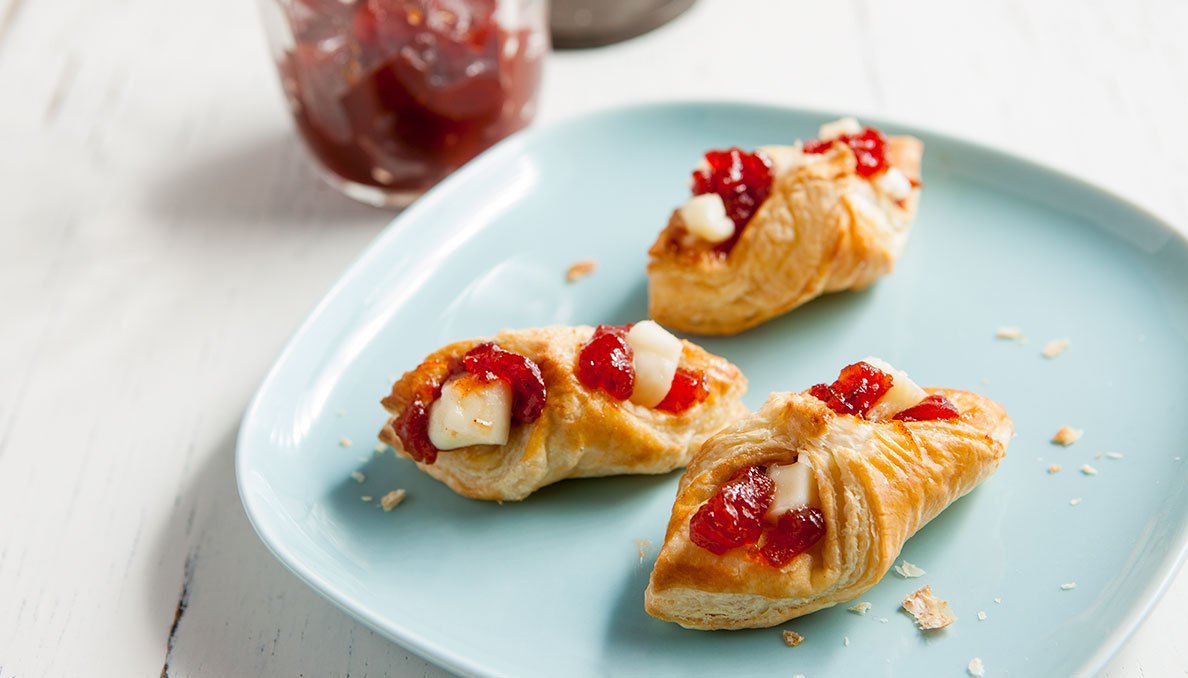 Brie Cheese in Puff Pastry with Tomato Jam
Ingredients
COPY INGREDIENTS
3/4 pound Brie cheese, chilled, rind removed and cut into 30 cubes
1 cup Tomato Jam, recipe below
1 sheet puff pastry, thawed
Instructions
Preheat oven to 350° F. Prepare a cookie sheet with parchment paper.
Unfold the pastry sheet on a floured surface. Roll the pastry into a 12 inch square. Cut into 36 (2-inch) squares Bring opposite points of each square together and pinch to form a pocket. Transfer each to prepared cookie sheet.
Bake for 8 to 10 minutes or until golden brown. Insert 2 brie cubes, one on each end, while pastry is still warm so cheese will melt. Allow to cool and then top each pastry with a couple teaspoons of tomato jam. Serve immediately.
TOMATO JAM
MAKES 1 PINT
PREPARATION TIME: 10 MINUTES COOKING TIME: 2 HOURS

1 (28 ounce) can Redpack® Whole Peeled Plum Tomatoes, undrained and chopped
1 cup sugar
2 tablespoons fresh squeezed lime juice
2 tablespoons cider vinegar
1 tablespoon fresh grated ginger
1 teaspoon cumin
½ teaspoon cinnamon
¼ teaspoon cloves
1 teaspoon salt
1/8 teaspoon red pepper flakes
Combine all ingredients in a heavy medium saucepan. Bring to a boil over medium heat, stirring often.

Reduce heat and simmer, stirring occasionally, until mixture has consistency of thick jam (when you scrape the bottom of the pan with a spoon, the line should hold and not run back into itself), about 2 hours. Taste and adjust seasoning, then cool and refrigerate until ready to use.; This jam will keep in refrigerator for about 2 weeks.

Option: To preserve, put jam in canning jar, with lid and ring; place in hot water bath for 15 minutes or heat mixture to boiling, put in mason jars and seal with lid and tightly turned ring. Turn upside down and allow to cool. Can be divided into smaller jars to give as gifts.