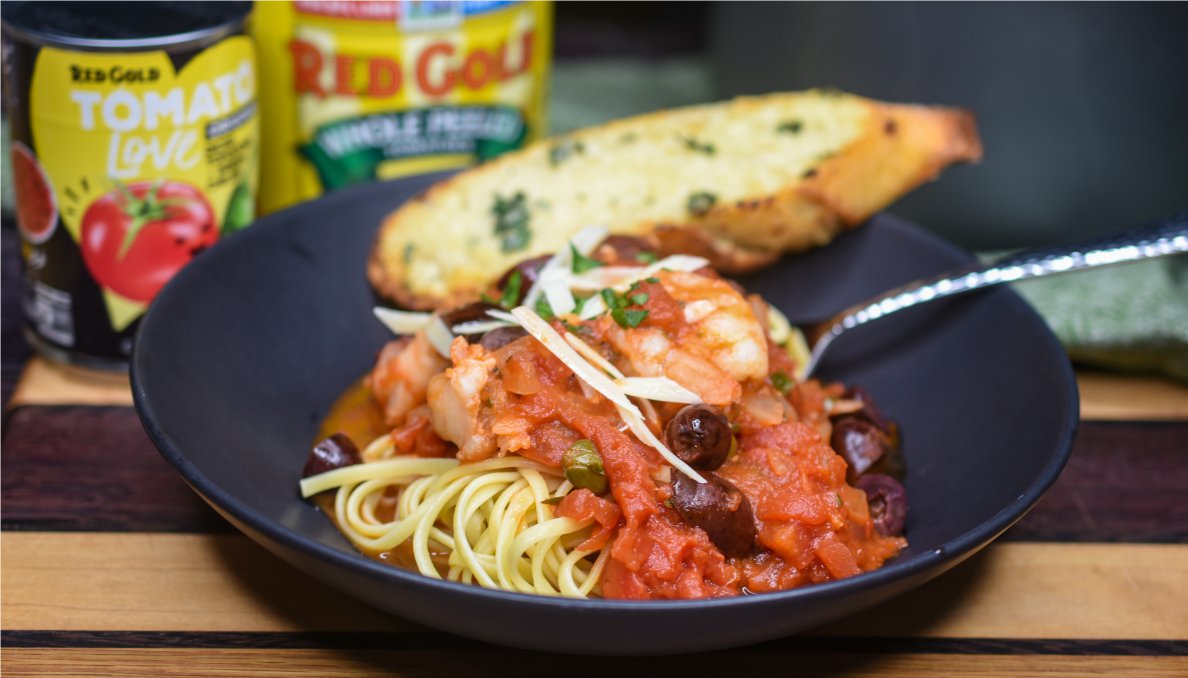 Puttanesca Sauce with Shrimp
If you have never made Puttanesca Sauce, this is your sign that it's time to. The robust flavor that is built quickly using simple ingredients is amazing! With or without shrimp, your taste buds are in for a tasty treat! @soufflebombay @thefeedfeed
If you have never made Puttanesca Sauce, this is your sign that it's time to. The robust flavor that is built quickly using simple ingredients is amazing! With or without shrimp, your taste buds are in for a tasty treat! @soufflebombay @thefeedfeed
Ingredients
COPY INGREDIENTS
3 Tablespoons olive oil
1 small onion, chopped
3 cloves garlic, chopped
red pepper flakes, to taste
1 four ounce jar of capers, plus their juice
3/4 cup black or Kalamata olives, halved
1 can Red Gold® Whole Peeled Tomatoes 28 oz
1 can Red Gold Tomato Love® Original Diced Tomatoes + Green Chilies 10 oz
2 teaspoons anchovy paste, or 3 minced anchovies
1/4 cup fresh parsley, chopped
Kosher salt, to taste
1 teaspoon sugar, optional
1 pound raw shrimp, cleaned, tails removed
12 ounces spaghetti or linguine, cooked ala dente
Instructions
In a medium-sized pot, heat the olive oil. Once hot add onion and sauté for 5 minutes. Add garlic and red pepper flakes and sauté another minute. Add capers with their juice, olives, and stir to combine.
Add Red Gold Whole Peeled Tomatoes and Red Gold Tomato Love Original Diced Tomatoes + Green Chilies. Using a potato masher carefully break up the whole tomatoes a bit (alternatively you can crush them with your clean hands or masher prior to adding).
Add anchovy paste/anchovies, parsley, salt and sugar. Stir to combine and bring to a simmer for 10-15 minutes.
Add shrimp and simmer for a few minutes until they are cooked through.
Taste and adjust seasoning if necessary.