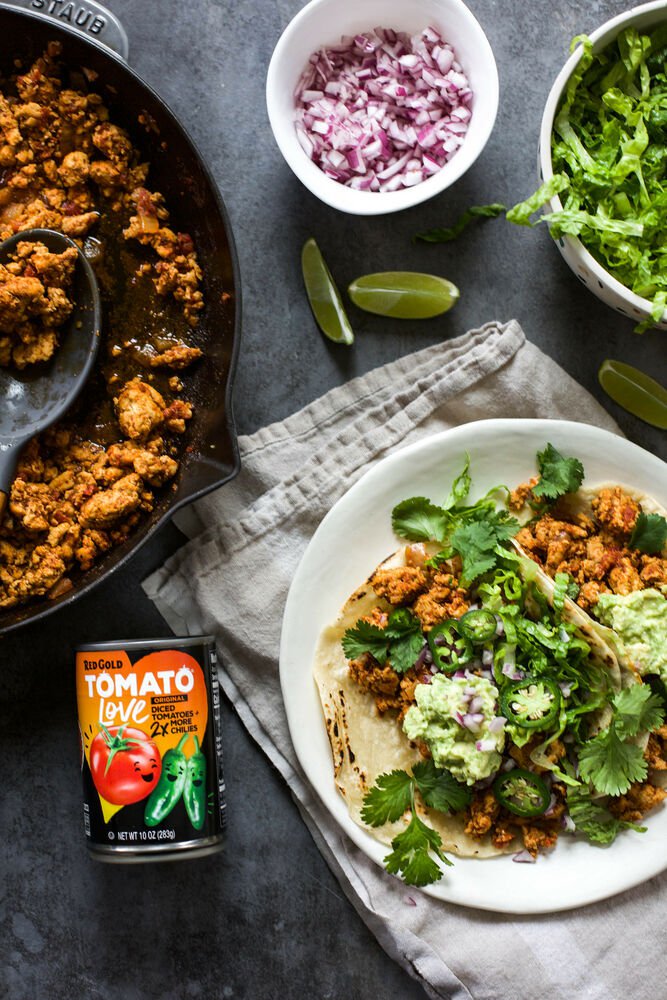 Ground Chicken Tacos
"I've got a new and EASY weeknight dinner idea for y'all, my Ground Chicken Tacos couldn't be easier to make and are so delicious! I partnered with @redgoldtomatoes to bring you this taco recipe that your whole family will love! Tomato Love is the newest brand from @redgoldtomatoes which helps make these tacos even more flavorful and delicious, and I love how the 2X more chilies add a little kick too. Tomato Love products are guaranteed to be fresh as it only takes approximately 1 hour for a tomato to go from the tomato truck, get sorted, processed, labeled and ready to ship to the customer! I stock up on Tomato Love at my local store for easy weeknight cooking." @mydiaryofus
"I've got a new and EASY weeknight dinner idea for y'all, my Ground Chicken Tacos couldn't be easier to make and are so delicious! I partnered with @redgoldtomatoes to bring you this taco recipe that your whole family will love! Tomato Love is the newest brand from @redgoldtomatoes which helps make these tacos even more flavorful and delicious, and I love how the 2X more chilies add a little kick too. Tomato Love products are guaranteed to be fresh as it only takes approximately 1 hour for a tomato to go from the tomato truck, get sorted, processed, labeled and ready to ship to the customer! I stock up on Tomato Love at my local store for easy weeknight cooking." @mydiaryofus
Ingredients
COPY INGREDIENTS
1 tablespoon avocado oil
2 pounds ground chicken
salt, to taste
freshly ground black pepper, to taste
1/2 cup onion, finely diced
2 cloves of garlic, minced
1 can Red Gold Tomato Love® Medium Diced Tomatoes + 2X More Chilies 10 oz
2 tablespoons chili powder
1 tablespoon cumin
1 teaspoon paprika
1/2 teaspoon dried oregano
1/2 teaspoon garlic powder
1/4 cup water
corn tortilla, for serving
Toppings
lettuce, shredded
1 avocado, smashed
fresh jalapenos, sliced
fresh cilantro, chopped
fresh lime, cut into wedges
salsa, Red Gold mild or medium
red onion, finely chopped
Instructions
Heat a large skillet over medium high heat and add avocado oil.
Add in ground chicken and begin to brown and season with salt and pepper.
While chicken is browning, add in diced onions and garlic and continue to sauté for another 2-3 minutes.
Add in Tomato Love Original Diced Tomatoes + 2X More Chilies, chili powder, cumin, paprika, oregano, and garlic powder along with water and stir to combine.
Continue to cook chicken for another 10-15 minutes with lid on until chicken is cooked through, and then squeeze fresh lime juice over top and stir.
Char tortillas and serve immediately with ground chicken taco meat and desired toppings.