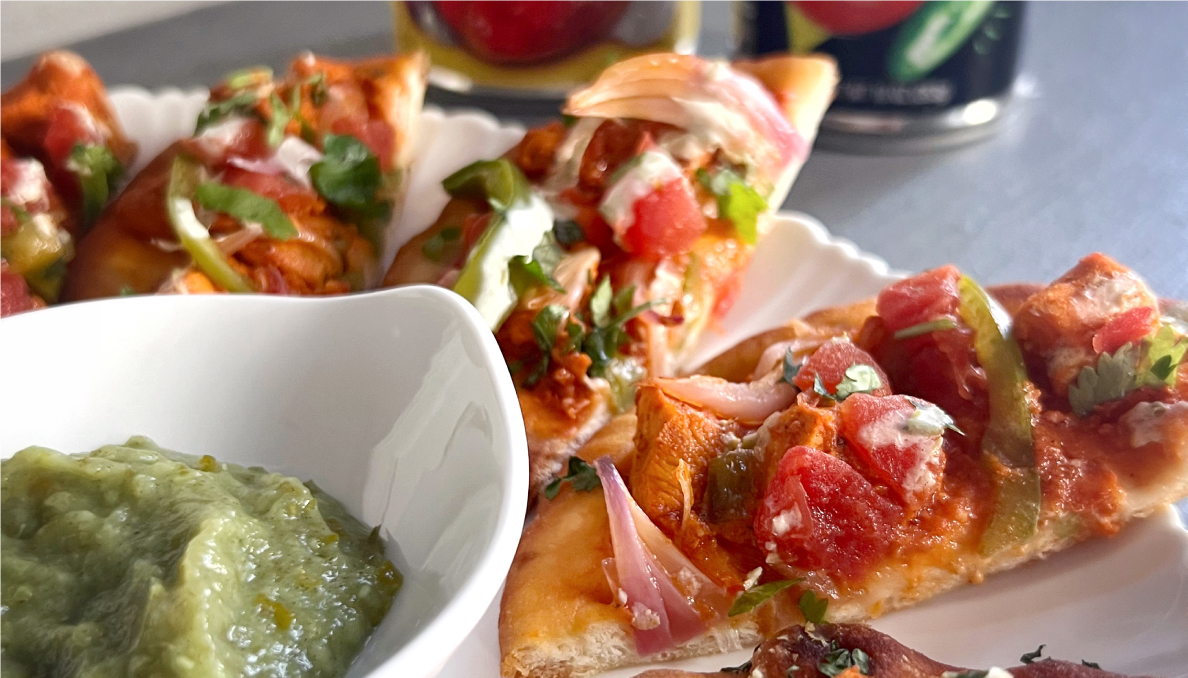 Tandoori Chicken Flatbread
These tomato-spiced chicken flatbreads are topped with peppers and onions, baked until golden and crisp, garnished with cilantro and drizzled with a cooling yogurt-mint sauce. @Myuniversalkitchen @thefeedfeed
These tomato-spiced chicken flatbreads are topped with peppers and onions, baked until golden and crisp, garnished with cilantro and drizzled with a cooling yogurt-mint sauce. @Myuniversalkitchen @thefeedfeed
Ingredients
COPY INGREDIENTS
1 teaspoon kosher salt
1 teaspoon black pepper
1 Tablespoon garlic ginger paste
1 teaspoon chili powder
1 teaspoon paprika
1/2 teaspoon cumin
juice of 1 lemon
2 boneless skinless chicken breasts, cut into bite-sized pieces
1 cup plain yogurt
1/2 cup fresh mint
1 jalapeno
1 garlic clove
1 Tablespoon lemon juice, plus more to taste
Kosher salt & black pepper to taste
1 Tablespoon vegetable oil
1 can Red Gold® Tomato Sauce 15 oz
store-bought flatbread
1 green bell pepper, seeded and thinly sliced
1 medium red onion, thinly sliced
1 can Red Gold Tomato Love® Mild Diced Tomatoes + Green Chilies 10 oz, drained
1/4 cup fresh cilantro, chopped
Instructions
To make the marinade, in a large bowl combine salt, pepper, garlic ginger paste, chili powder, paprika, cumin, and lemon juice. Whisk together well.
Add chicken breast to marinade, cover and refrigerate 30 minutes.
Meanwhile, make the yogurt sauce by blending together yogurt, mint, jalapeno, garlic and lemon juice in a food processor or blender. Adjust seasoning with salt and pepper to taste. Set aside until ready to serve.
Remove chicken from marinade. Heat vegetable oil in a skillet on medium-high heat. Cook for 8-10 minutes, until the chicken is cooked through.
Add the tomato sauce and stir well. Cover and cook for approximately 5-7 minutes. Remove from heat and allow the chicken to cool.
Spread chicken mixture evenly over flatbreads. Top them off with sliced green peppers, red onions, and Red Gold Tomato Love Mild Diced Tomatoes + Green Chilies.
Bake in the oven or in an air fryer at 375°F for 8 minutes until the flatbreads are crispy and golden.
Drizzle with the yogurt-mint sauce and garnish with chopped cilantro.