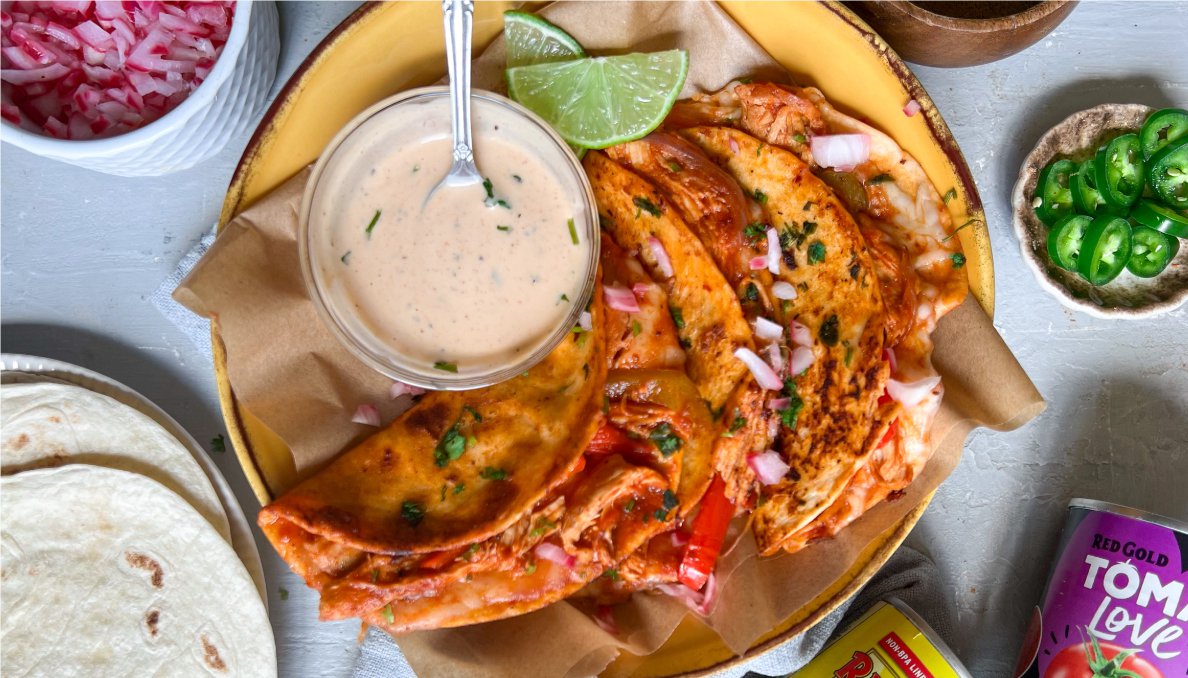 Spicy Shredded Chicken Tacos
Spice up your taco game with a sizzling twist! These shredded chicken tacos are flavor-packed and oh-so-delicious! The combination of tender chicken, flavorful tomatoes, bold spices, and a hint of heat will have you coming back for seconds! @iramsfoodstory @thefeedfeed
Spice up your taco game with a sizzling twist! These shredded chicken tacos are flavor-packed and oh-so-delicious! The combination of tender chicken, flavorful tomatoes, bold spices, and a hint of heat will have you coming back for seconds! @iramsfoodstory @thefeedfeed
Ingredients
COPY INGREDIENTS
1 1/2 pounds boneless skinless chicken breast
2 teaspoons kosher salt
1 tablespoon black pepper, freshly ground
1 tablespoon red chili powder
1 red onion, sliced
1 tablespoon freshly minced garlic
1 cup mixed bell peppers, sliced
1 tablespoon Cajun seasoning
1 teaspoon cumin
1 teaspoon red chili flakes
3 tablespoons Red Gold® Roasted Garlic Tomato Paste 6 oz
1 can Red Gold Tomato Love® Seasoned Diced + Crushed Tomatoes Chili Starter 10 oz
1 chicken bouillon cube plus 1 cup water, (or 1 cup chicken broth)
12 small flour tortillas
1 1/2 cups shredded mozzarella
diced tomatoes, chopped cilantro, diced red onion, limes wedges, for serving
Instructions
In a mixing bowl, add the chicken. Season with salt, black pepper, and red chili powder.
In a skillet, cook the chicken until it is fully cooked and tender. Shred the cooked chicken using two forks and set aside.
In the same skillet, sauté the onions and minced garlic until golden brown. Add bell peppers and sauté for an additional minute.
Add the shredded chicken to the skillet and season with Cajun seasoning, cumin, and red chili flakes.
Add Red Gold Roasted Garlic Tomato Paste and Red Gold Chili Starter Seasoned Diced + Crushed Tomatoes, along with 1 cup of chicken broth. Mix everything together and let it cook for a few minutes so the flavors meld.
In a skillet on medium-low heat, warm up the tortillas. Add a generous amount of mozzarella cheese, fill them with the spicy shredded chicken on one side, then fold.
Top with your favorite taco toppings like diced tomatoes shredded lettuce, chopped cilantro, and a squeeze of lime juice.