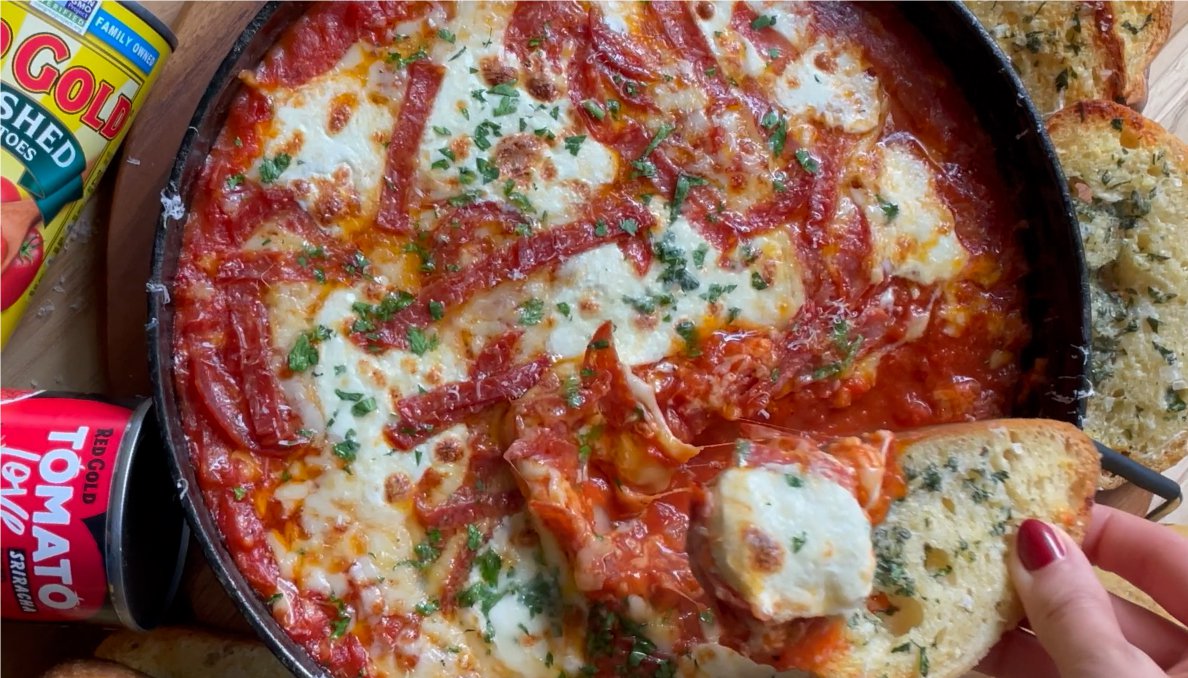 Spicy Pizza Dip with Garlic Bread
Dive into this spicy pizza dip made with sweet Red Gold Tomatoes and spicy Red Gold Tomato Love Sriracha Diced Tomatoes + Red Chilies made with real Huy Fong Sriracha! Top with two types of cheese for the perfect gooey, cheesy appetizer your friends are gonna love. The quality Red Gold Tomatoes make all the difference! @lisathompson @thefeedfeed
Dive into this spicy pizza dip made with sweet Red Gold Tomatoes and spicy Red Gold Tomato Love Sriracha Diced Tomatoes + Red Chilies made with real Huy Fong Sriracha! Top with two types of cheese for the perfect gooey, cheesy appetizer your friends are gonna love. The quality Red Gold Tomatoes make all the difference! @lisathompson @thefeedfeed
Ingredients
COPY INGREDIENTS
Spicy Pizza Dip
3 Tablespoons olive oil
1 small onion, diced
4 garlic cloves, peeled & roughly chopped
2 cans Red Gold® Crushed Tomatoes 15 oz
1 can Red Gold Tomato Love® Sriracha Diced Tomatoes + Red Chilies 10 oz
1 teaspoon dried oregano
2 Tablespoons unsalted butter, optional
1 teaspoon kosher salt
1/2 teaspoon black pepper
4 ounces provolone cheese, shredded
4 ounces mozzarella cheese, fresh and torn
pepperoni, julienned (optional)
Garlic Bread
1 1/2 sticks unsalted butter, softened
4 garlic cloves, finely grated
1/3 cup Parmigiano Reggiano, grated
3 Tablespoons parsley, freshly chopped
1 small loaf Italian bread, sliced
flaky sea salt, to taste
Instructions
TO MAKE PIZZA DIP
Preheat oven to 375°F.
Heat olive oil in a medium oven-safe saucepan over medium heat until gently shimmering. Add chopped onion and garlic and sauté until translucent, about 6-8 minutes. Add Red Gold Crushed Tomatoes and Red Gold Tomato Love Sriracha Diced Tomatoes + Red Chilies and stir until well combined. Stir in dried oregano, butter (if using), salt, and pepper. Reduce heat to medium-low and simmer for about 25 minutes.
TO MAKE GARLIC BREAD
While the tomato sauce simmers, combine softened butter, garlic and Parmigiano cheese, and parsley in a small bowl. Spread about 2 teaspoons butter over each slice of bread, then arrange on a baking sheet. Sprinkle with flaky sea salt.
Top tomato sauce with provolone and mozzarella cheeses and a layer of pepperoni. Cover pan with foil or a tight fitting lid. Transfer pan to the oven along with the bread and bake until cheese is fully melted, about 10-12 minutes. Remove cover and broil until cheese and pepperoni are golden, about 5 minutes. Note: you may need to remove garlic bread from the oven before the pizza dip if it becomes golden more quickly.
Let pizza dip cool slightly before sprinkling with more Parmigiano cheese and parsley. Serve with garlic bread for dipping.