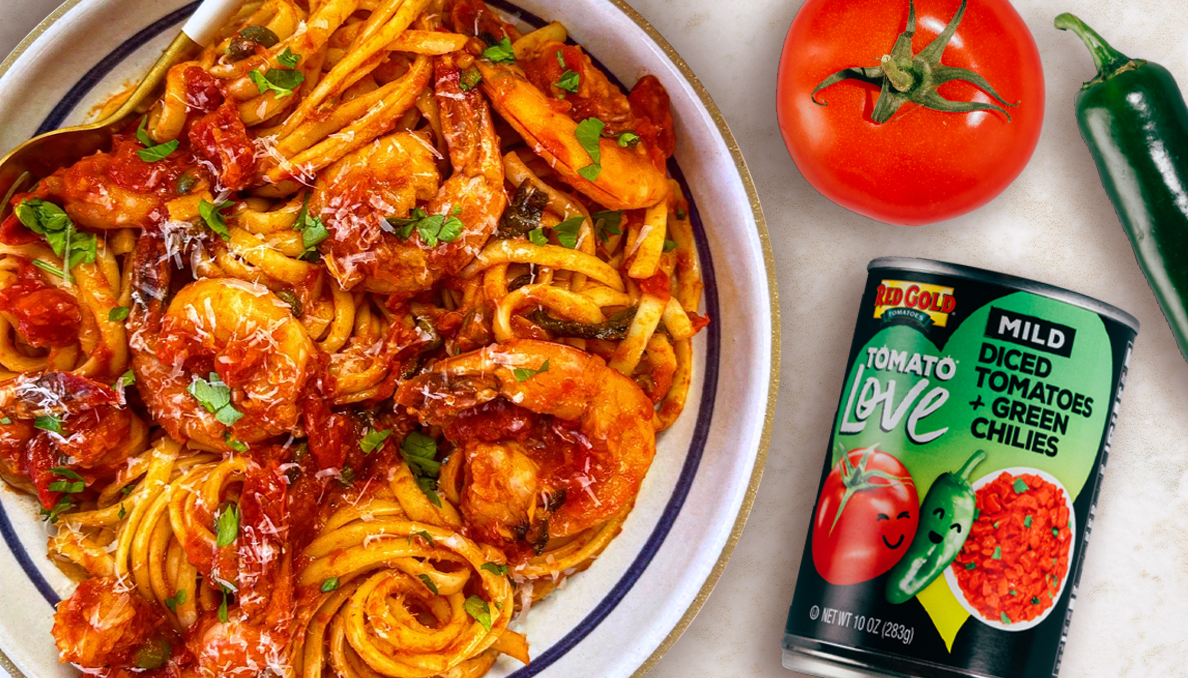 Spicy Linguine with Shrimp and Capers
This bright and vibrant spring and summer pasta dish is one of those dishes that appears as though you spent hours over the stove, but in reality, it's a one pot meal that is made in under one hour. A light tomato sauce is made using Red Gold Tomato Love Mild Diced Tomatoes + Green Chilies, Red Gold Whole Peeled Tomatoes, along with Red Gold Tomato Paste, tons of fresh herbs, and earthy garlic and capers. Shrimp is tossed into the sauce in its final minutes of simmering, and cooks in mere minutes to plump and tender perfection, sending that fresh seafood flavor throughout the entire pot of sauce. Served warm with a sprinkle of freshly grated parmesan and chopped parsley, this is equally perfect for weeknight meals and weekend entertaining! @Threebirdsonestove @thefeedfeed
This bright and vibrant spring and summer pasta dish is one of those dishes that appears as though you spent hours over the stove, but in reality, it's a one pot meal that is made in under one hour. A light tomato sauce is made using Red Gold Tomato Love Mild Diced Tomatoes + Green Chilies, Red Gold Whole Peeled Tomatoes, along with Red Gold Tomato Paste, tons of fresh herbs, and earthy garlic and capers. Shrimp is tossed into the sauce in its final minutes of simmering, and cooks in mere minutes to plump and tender perfection, sending that fresh seafood flavor throughout the entire pot of sauce. Served warm with a sprinkle of freshly grated parmesan and chopped parsley, this is equally perfect for weeknight meals and weekend entertaining! @Threebirdsonestove @thefeedfeed
Ingredients
COPY INGREDIENTS
Instructions
Heat olive oil in a large pot over low heat. Add garlic and stir until fragrant, about one minute.
Add Red Gold Tomato Paste, Red Gold Whole Peeled Tomatoes, and Red Gold Tomato Love Mild Diced Tomatoes + Green Chilies, red wine, sugar, basil, capers, and chili flakes (if using). Season with salt and pepper to taste. Stir to combine. Simmer over low heat with lid ajar for one hour, stirring throughout. Add shrimp and continue to cook for 10 minutes over low heat.
Meanwhile, prepare linguine according to package. Reserve one cup of pasta water and set aside. Add cooked linguine directly to sauce. Gently stir to combine. Serve into bowls, then sprinkle with grated parmesan cheese and garnish with parsley. Serve immediately.