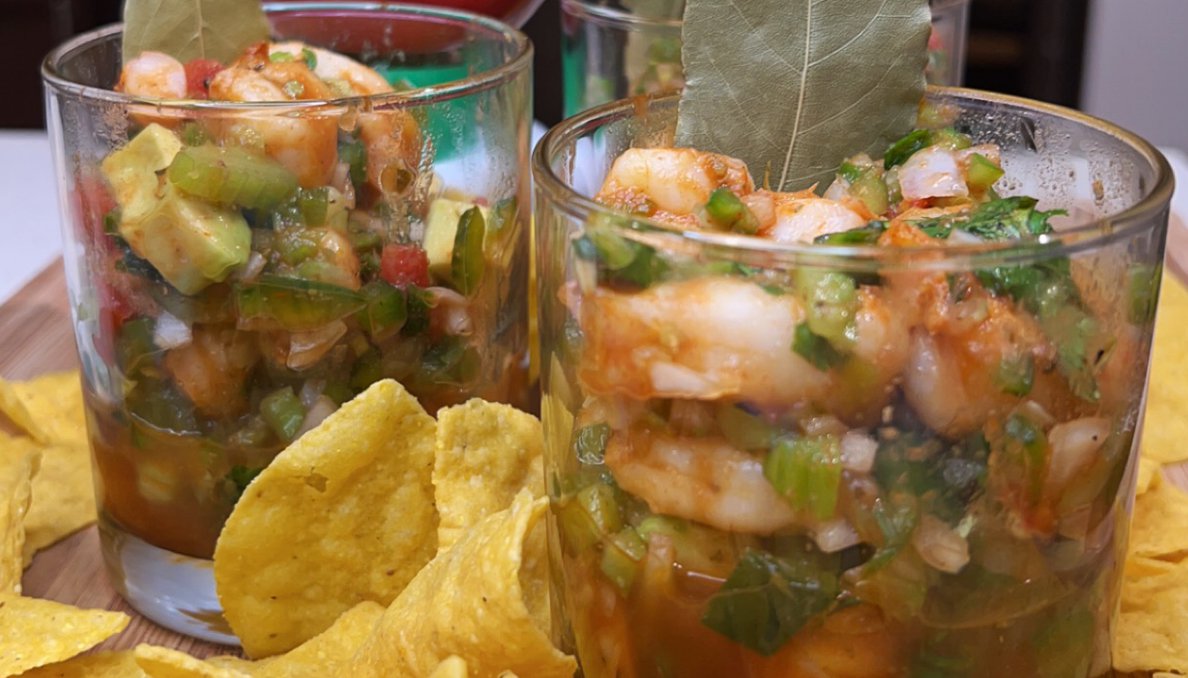 Mexican Seafood Cocktail
A light and refreshing dish that makes the perfect appetizer. It's a perfect combo of plump shrimp, juicy tomatoes, creamy avocados, and Mama Selita's Jalapeno Ketchup gives it a nice extra kick! @cookwithskye @thefeedfeed
A light and refreshing dish that makes the perfect appetizer. It's a perfect combo of plump shrimp, juicy tomatoes, creamy avocados, and Mama Selita's Jalapeno Ketchup gives it a nice extra kick! @cookwithskye @thefeedfeed
Ingredients
COPY INGREDIENTS
2 medium poblano peppers
1 can Red Gold® Diced Tomatoes 14.5 oz
1-2 jalapenos, finely chopped (stems, ribs & seeds removed)
1/4 cup Red Gold® Fresh Squeezed Tomato Juice 46 oz
1/4 cup Worcestershire sauce
1/4 cup plus 2 tablespoons Red Gold® Mama Selita's Jalapeno Ketchup 20 oz
3 tablespoons celery, finely chopped
2 tablespoons fresh cilantro, roughly chopped
2 tablespoons white onion, finely chopped
1 1/2 teaspoon fresh oregano, finely chopped
1/2 teaspoon garlic powder
3 tablespoons fresh lime juice
3 tablespoons olive oil
1/4 teaspoon kosher salt, plus more to taste
1/2 pound medium wild shrimp, peeled, deveined, tails removed
1 avocado, pitted and cubed
3-4 fresh bay leaves, for garnish, optional
tortilla chips, for serving
Instructions
Broil or roast poblano peppers for 5-10 minutes until skin is blackened all over.
Transfer to a large bowl. Cover with plastic wrap and let steam for 15 minutes. Peel, halve, discard seeds and chop into small pieces.
Preheat an air fryer to 400°F. Air fry shrimp for 8 minutes, set aside to cool.
Combine poblano peppers, tomatoes, jalapenos, tomato juice, Worcestershire, Mama Selita's Jalapeno Ketchup, celery, cilantro, onion, oregano, garlic power, lime juice, oil and kosher salt in a large bowl. Carefully fold in shrimp followed by avocado.
Transfer to small glasses or a large serving bowl. Garnish with bay leaves if desired. Serve with tortilla chips.