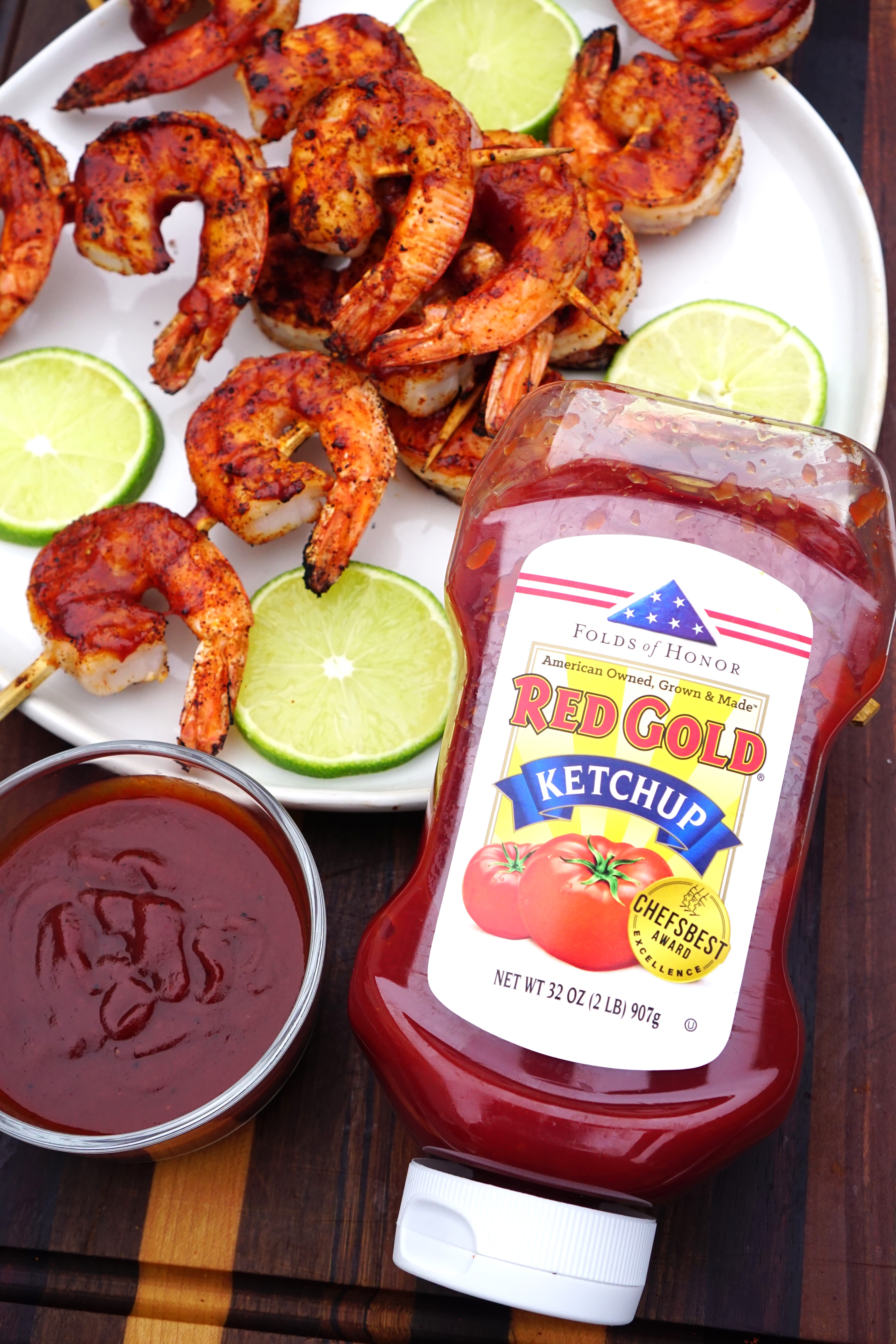 Grilled Shrimp Kabobs
When it comes to a summer bbq, Grilled Shrimp Kabobs are one of my favorites. This is so easy to make and with that sweet tangy bbq sauce, these flavors are absolutely perfect. @hooked_on_bbq @thefeedfeed
When it comes to a summer bbq, Grilled Shrimp Kabobs are one of my favorites. This is so easy to make and with that sweet tangy bbq sauce, these flavors are absolutely perfect. @hooked_on_bbq @thefeedfeed
Ingredients
COPY INGREDIENTS
Dry Rub
2 tablespoons smoked paprika
2 tablespoons chili powder
1 tablespoon kosher salt
1 tablespoon ground black peper
1 tablespoon dried thyme
1 tablespoon onion powder
1 tablespoon garlic powder
1 pound fresh shrimp
BBQ Sauce
1 cup Red Gold® Folds of Honor Ketchup 32 oz
2 tablespoons brown sugar
2 tablespoons apple cider vinegar
2 tablespoons Worcestershire sauce
1 tablespoon yellow mustard
1 tablespoon hot sauce
1 teaspoon smoked paprika
1/4 teaspoon kosher salt
1/4 teaspoon freshly ground black pepper
1/4 teaspoon chipotle pepper
squeezed lime
Instructions
Soak four bamboo skewers in water for 1 hour. In a small bowl combine all the dry rub ingredients. Skewer the shrimp and season with the dry rub.
In a saucepan, combine the BBQ sauce ingredients and simmer on low for 10 minutes while stirring frequently.
Preheat grill to 350°F and place the shrimp skewers on the grill. After 2 minutes, flip the shrimp and baste with the BBQ sauce.
Remove the shrimp from the grill when the internal temperature of the shrimp reaches 120°F.
Squeeze fresh lime juice over the shrimp before serving.