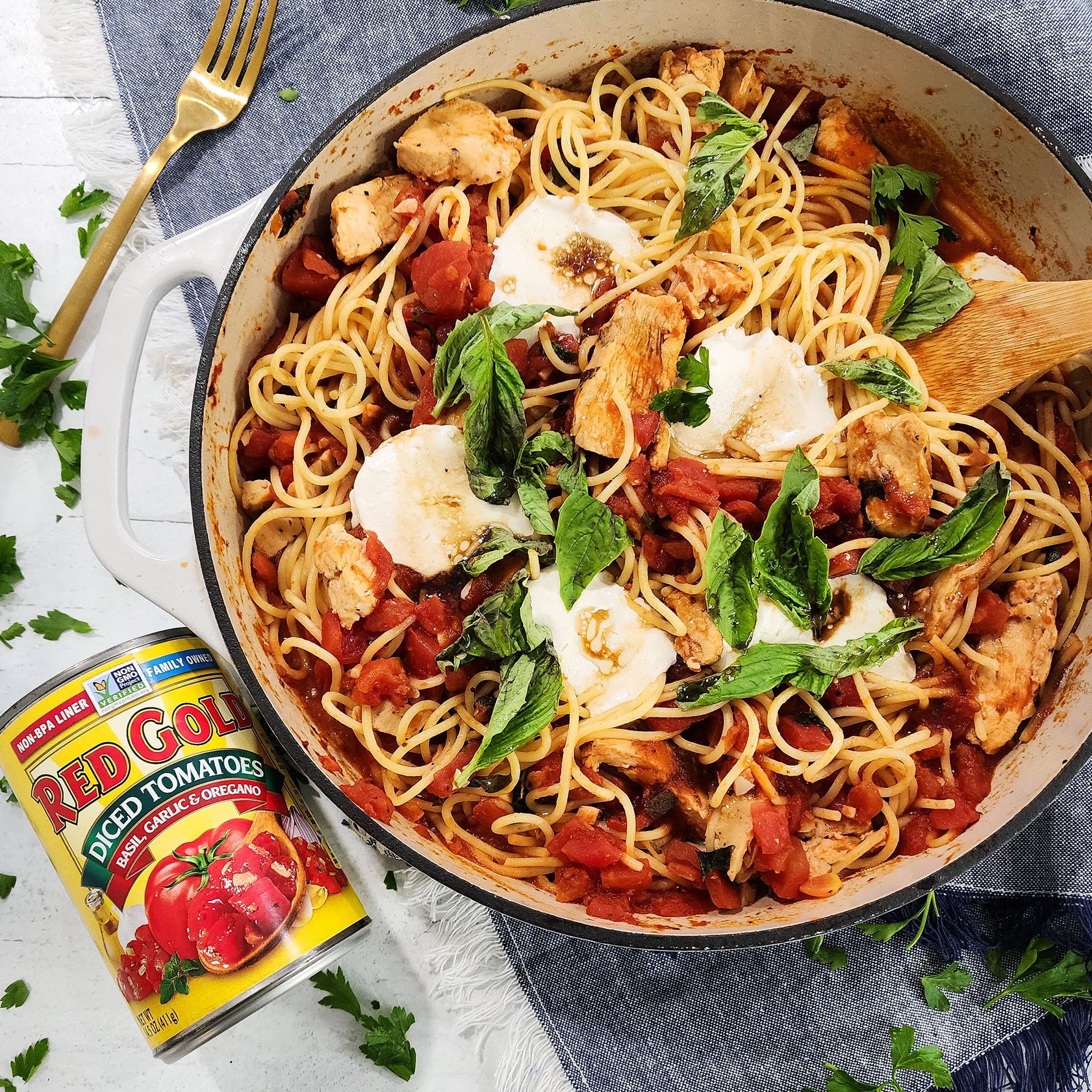 Easy Chicken Caprese Pasta
Make your pasta night even more amazing with this Easy Chicken Caprese Pasta dish made with Red Gold® Diced Tomatoes with Basil, Garlic and Oregano. @beautifuleatsandthings @thefeedfeed
Make your pasta night even more amazing with this Easy Chicken Caprese Pasta dish made with Red Gold® Diced Tomatoes with Basil, Garlic and Oregano. @beautifuleatsandthings @thefeedfeed
Ingredients
COPY INGREDIENTS
2 tablespoons olive oil
2 cans Red Gold® Diced Tomatoes Basil, Garlic & Oregano 14.5 oz
kosher salt, to taste
fresh ground pepper, to taste
1 pound chicken breasts, precooked & sliced
1 pound thin spaghetti noodles, cooked
3 garlic cloves, minced
fresh mozzarella cheese, sliced
1/4 cup fresh basil, chopped plus more for garnish
balsamic vinegar, to taste
Instructions
In a large skillet on medium heat, add in olive oil and both cans of Red Gold® Diced Tomatoes Basil, Garlic and Oregano. Stir and cook for 5-6 minutes. Season well with salt and pepper to taste.
Add in prepared chicken and cook for an additional 2-4 minutes.
Add in the noodles, garlic cloves and toss until evenly coated. Heat through, about 8 minutes.
Remove from heat and top with slices of fresh mozzarella, basil leaves and a drizzle of balsamic vinegar. Serve immediately.