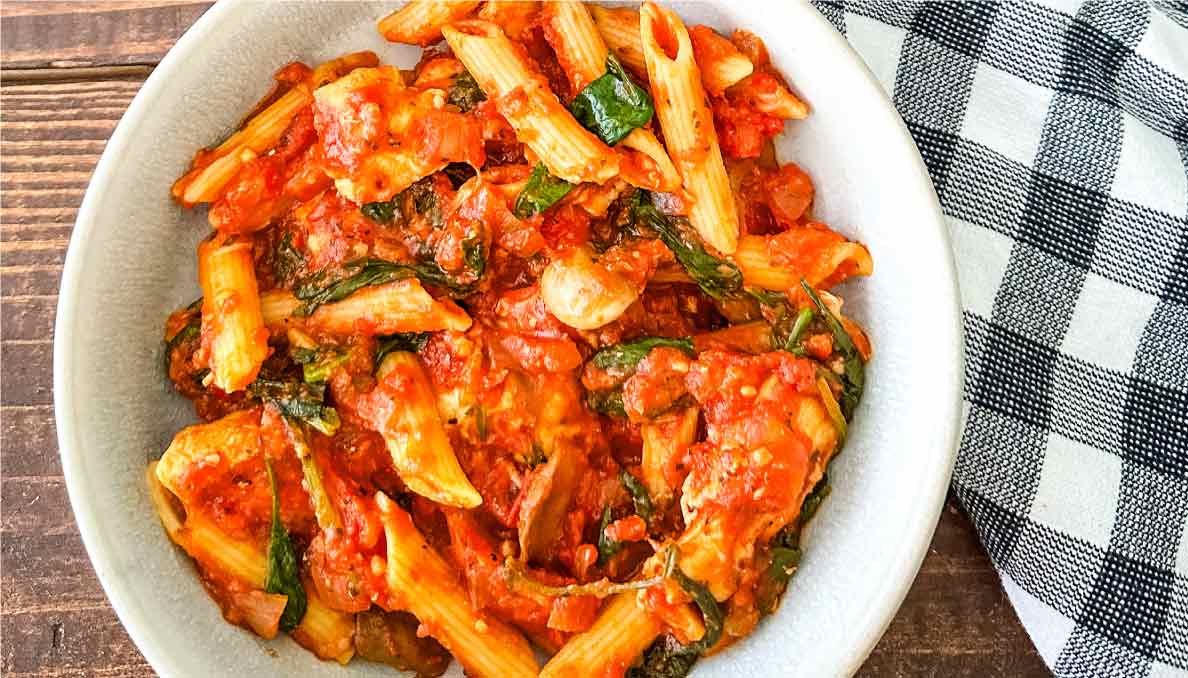 Chicken Tomato Pasta
This chicken tomato pasta is an incredibly easy and delicious meal, making it absolutely perfect for those hectic weeknights when you need a quick and satisfying dinner. It boasts tender and succulent chicken pieces that are cooked to perfection, along with a rich and flavorful tomato sauce using Red Gold Tomatoes that will leave your taste buds dancing with delight. Shop Red Gold Tomatoes at your nearest retailer. @ahalfbakedmom @thefeedfeed
This chicken tomato pasta is an incredibly easy and delicious meal, making it absolutely perfect for those hectic weeknights when you need a quick and satisfying dinner. It boasts tender and succulent chicken pieces that are cooked to perfection, along with a rich and flavorful tomato sauce using Red Gold Tomatoes that will leave your taste buds dancing with delight. Shop Red Gold Tomatoes at your nearest retailer. @ahalfbakedmom @thefeedfeed
Ingredients
COPY INGREDIENTS
2 1/2 cups pasta
kosher salt and pepper to taste
1 tablespoon olive oil
1 tablespoon butter
2 pounds chicken breast, cut into 1-inch cubes
1 medium onion, chopped
2 cups mushrooms, sliced
4 garlic cloves, chopped
1 teaspoon red chili flakes
2 teaspoons dried basil
2 teaspoons dried oregano
1/4 cup Red Gold® Sweet Basil Tomato Paste 6 oz
2 cans Red Gold® Crushed Tomatoes 15 oz
2 1/2 cups baby spinach
1/3 cup shredded Parmesan
Instructions
To cook the pasta, bring a large pot of water to a boil. Add a generous amount of salt and cook the pasta al dente, following the instructions on the package.
Heat the olive oil in a large pan and melt the butter in it.
Add the chicken to the pan, season with salt and pepper, and cook over medium heat for 6-7 minutes until it is slightly golden.
Add the onion and mushrooms to the pan and cook for 4-5 minutes until the mushrooms are fully cooked.
Stir in the garlic, red chili flakes, basil and oregano, and cook for another minute.
Next, add the tomato paste and crushed tomatoes. Simmer the sauce and let it bubble for 5 minutes.
Add the baby spinach and let it simmer for an additional 2-3 minutes. Then transfer the cooked pasta to the pan and toss it well. Stir in the shredded Parmesan, season to taste.