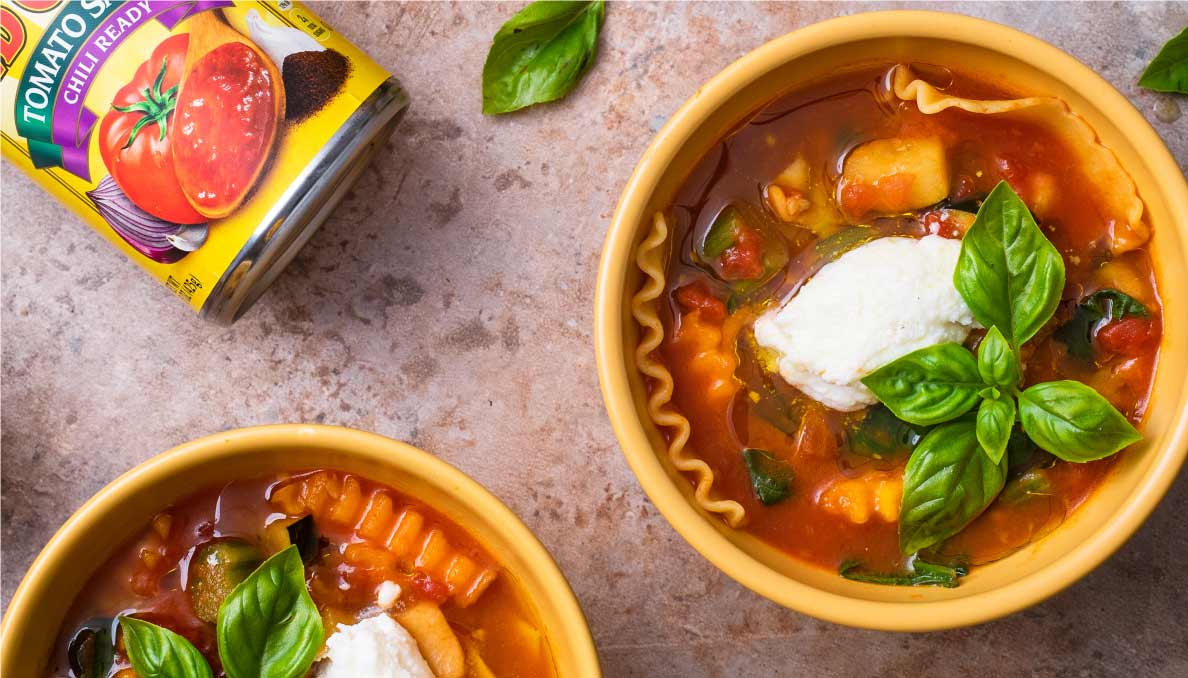 Butternut Squash Lasagna Soup
This cozy butternut squash lasagna soup is perfect for fall! Packed with veggies and cozy flavors thanks to Red Gold Chili Ready Tomato Sauce & Chili Ready Diced Tomatoes. @swarnika @thefeedfeed
This cozy butternut squash lasagna soup is perfect for fall! Packed with veggies and cozy flavors thanks to Red Gold Chili Ready Tomato Sauce & Chili Ready Diced Tomatoes. @swarnika @thefeedfeed
Ingredients
COPY INGREDIENTS
2 tablespoons olive oil
1 cup butternut squash, diced
2 tablespoons minced garlic
1 cup zucchini, diced
1/2 cup celery, chopped
1 can Red Gold® Chili Ready Tomato Sauce 15 oz
1 can Red Gold® Chili Ready Diced Tomatoes 14.5 oz
32 ounces vegetable stock
2 tablespoons Italian seasoning
1 teaspoon chili flakes, optional
salt and pepper to taste
6 ounces lasagna noodles
2 cups spinach
1/2 cup ricotta cheese
1/2 cup grated parmesan or pecorino cheese
olive oil, drizzle for serving
fresh basil, garnish for serving
Instructions
In a heavy bottomed pot, heat olive oil and cook diced butternut squash until starting to soften (3-4 minutes). Remove and set aside.
In the same pot, add minced garlic, zucchini, and chopped celery. Stir and cook for 4 minutes.
Add the Red Gold Chili Ready Tomato Sauce, Chili Ready Diced Tomatoes and vegetable broth. Add Italian seasoning, chili flakes (if using), salt and pepper. Cover and bring to a boil for approximately 10 minutes.
Add lasagna noodles, cooked butternut squash, and cook until noodles are softened. Add spinach and stir to combine. Taste and adjust for seasoning.
In a small bowl, combine ricotta and parmesan.
Serve soup in bowls topped with a dollop of ricotta and parmesan mixture, drizzle of olive oil, and fresh basil.