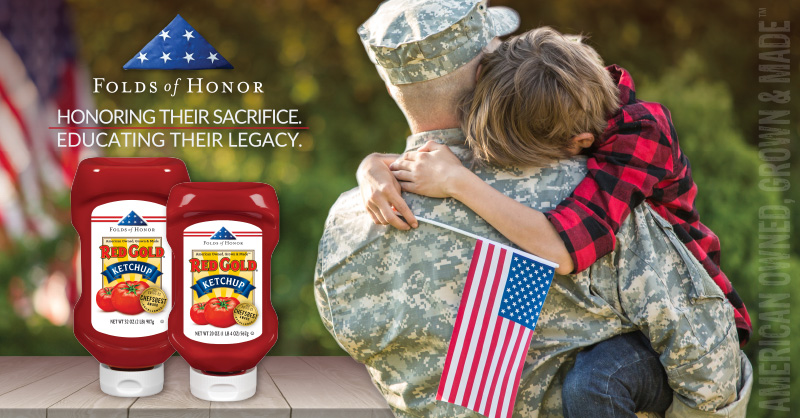 When you buy Red Gold® Folds of Honor Ketchup, you play an important part in helping to educate the families of our fallen or disabled veterans.
We have partnered with the Folds of Honor Foundation, a fantastic organization that provides educational support to the spouses and children of deceased or disabled U.S. service members. A portion of the purchase of every bottle of Red Gold® Folds of Honor Ketchup goes directly toward supporting this effort. Red Gold Folds of Honor Ketchup not only does good, it tastes good too. The Award Winning Taste recently won the ChefsBest Excellence Award for 2022. The ChefsBest Excellence Award is awarded to brands that surpass quality standards established by professional chefs.
How Can You Help Support Military Families?
Sadly in our nation today, there are over one million service personnel who have made the ultimate sacrifice for their country or are disabled as the result of their military duty. It is also startling to learn that nearly two million military dependents have been adversely affected by these tragic circumstances. The mission of the Folds of Honor Foundation is to provide educational scholarships for the spouses and children of these American heroes, who did so much to protect the freedoms we all enjoy.
Red Gold® Ketchup Folds of Honor Ketchup
Red Gold Tomatoes has a long history of being there for our service members. During World War II, our family owned company supported the war effort by canning tomatoes for the troops both at home and overseas. We are so proud to be a part of The Folds of Honor Foundation's fundraising efforts. They have provided approximately 24,500 education scholarships to military spouses and their children, totaling over $18,000,000. In fact, 89 cents out of every dollar raised by the Foundation goes toward scholarship funding.

Check Out Our Newest Folds of Honor Commercial
Join Us as We Help the Families of American Heroes
Red Gold® Folds of Honor Ketchup is made right here in America, from tomatoes grown on 40 family owned, Midwestern farms. We are so grateful to the many customers who have purchased this special line of ketchup, which allows us to support such a great cause. If you haven't tried our Folds of Honor Ketchup or BBQ sauce, you're in for a real treat. We think enjoying delicious food while you help the loved ones of our American heroes is a true win-win for everyone. Join us on our mission today!
Available In Multiple Sizes

TOMATO KETCHUP MADE WITHVINE-RIPENED TOMATOESNO-DRIP FLIP-TOP KETCHUP BOTTLE MAKES ONE-HANDED DISPENSING A BREEZE

FULL BODIED KETCHUPTRUE TOMATO FLAVOR SUSTAINABLY GROWN AND PRODUCED IN THE US

REAL KETCHUPFREE OFARTIFICIAL COLORS, FLAVORS, OR PRESERVATIVES
Red Gold tomato juice is fresh squeezed and NOT from concentrate. I believe it to be the best on the planet.

William G.
Red Gold is the only brand that has natural tomato flavor. They are grown and packed in the USA.
Margaret. H.
Red Gold tomatoes are the best, none can every take their place or even come close.
Lydia P.
Red Gold tomatoes are the best on the market. I make my marinara using whole tomateos, diced, sauce, and paste along with my secret spices and herbs. People always ask how i make my sauce, I smile and point at the Red Gold cans.
Sam A.
I have been using ONLY Red Gold products for at least 15 years. PURE tomato flavor! Love all forms of the products, but use Diced the most.
Jeff J.
Look for the Best-Tasting Ketchup at these retailers