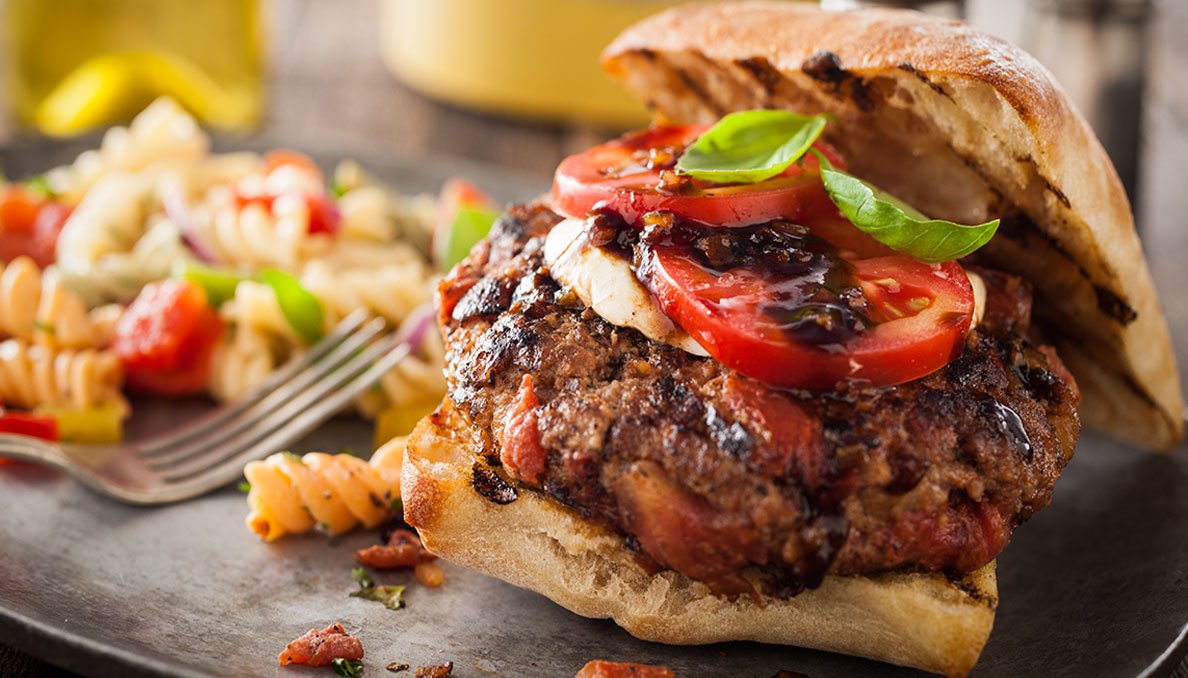 Red, White & Basil Burger
This unique burger takes the reserved juice from the our Basil, Garlic and Oregano Diced Tomatoes to make a delicious balsamic glaze for this burger. Serve the burger on Ciabatta bread with a slice of fresh mozzarella cheese, Roma tomatoes and fresh basil leaf.
Ingredients
COPY INGREDIENTS
2 pounds lean ground beef
2 (14.5 ounce) cans Red Gold® Diced Tomatoes Basil, Garlic & Oregano 14.5 oz, drained, reserve juice
1 cup cubed mozzarella cheese, fresh
3/4 cup Italian bread crumbs
3 tablespoons fresh basil, chopped
Salt and black pepper to taste
4 tablespoons balsamic vinegar
2 garlic cloves, minced
3 tablespoons Italian flavored olive oil
8 Ciabatta bread, or buns of choice
8 slices fresh mozzarella cheese
3 roma tomatoes, sliced
8 fresh basil leaves
Instructions
In a mixing bowl combine ground beef, diced tomatoes, chopped basil, breadcrumbs, salt and black pepper. Form into 8 patties and stuff each patty with cubed mozzarella cheese; grill to desired doneness over medium high heat.
Combine reserved tomato juice, vinegar, garlic, salt and black pepper in a saucepan. Cook on medium high heat to reduce the mixture until thick, about 20 minutes.
Brush the bread with oil and toast on the grill. Place burgers on bottom buns, top with 1 cheese slices, 3 tomatoes slices, 1 basil leaf and 1 tablespoon of the reduced tomato mixture; top with bun.