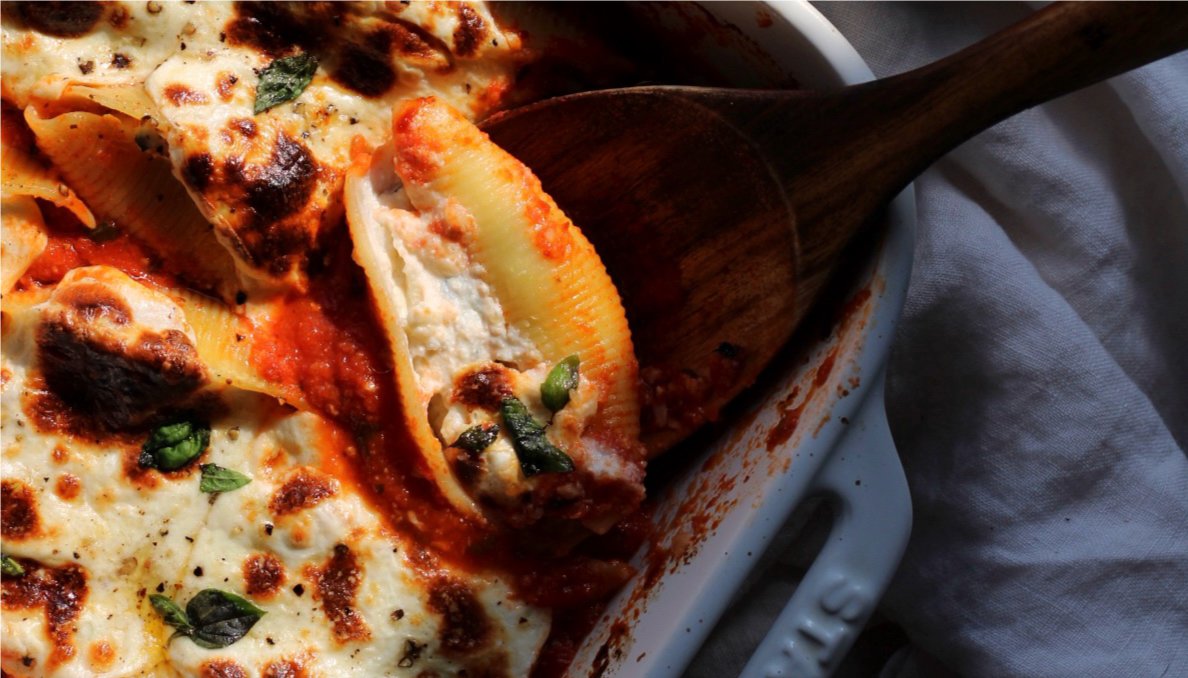 Cheese Stuffed Shells
This stuffed shells recipe is the ultimate comfort food. It's saucy, cheesy, and super addictive! What sets this stuffed shells recipe apart from the rest is the rich homemade sauce. It's made with Red Gold Whole Peeled Tomatoes and has a kick of spice due to the Red Gold Tomato Love Original Diced Tomatoes + Green Chilies. It's the perfect contrast to the smooth and creamy ricotta filling. @kilnandkitchen @thefeedfeed
This stuffed shells recipe is the ultimate comfort food. It's saucy, cheesy, and super addictive! What sets this stuffed shells recipe apart from the rest is the rich homemade sauce. It's made with Red Gold Whole Peeled Tomatoes and has a kick of spice due to the Red Gold Tomato Love Original Diced Tomatoes + Green Chilies. It's the perfect contrast to the smooth and creamy ricotta filling. @kilnandkitchen @thefeedfeed
Ingredients
COPY INGREDIENTS
Instructions
To Make the Sauce:
Heat the olive oil in a medium pot over low heat. Add the garlic and cook for 1-2 minutes or until fragrant, stirring often.
Add the Red Gold Whole Peeled Tomatoes and the Red Gold Tomato Love Original Diced Tomatoes + Green Chilies and their juices, salt, oregano, and basil. Use a wooden spoon to break apart the whole tomatoes into big chunks. Simmer over low heat for 20 minutes, stirring occasionally.
While the sauce is simmering, cook the pasta shells according to package instructions until al dente, drain and let cool.
To Make the Filling:
In a medium bowl, combine the ricotta, parmesan, basil, garlic powder, black pepper, and salt. Mix until smooth.
Once the sauce is done simmering, transfer to a blender (or use an immersion blender) and blend until smooth. Season to taste.
Spread 2 cups of the sauce in an even layer in the bottom of a 9x13 baking dish (you will have extra sauce left over).
Preheat the oven to 425°F. Fill each shell with the ricotta mixture and place in the baking dish. Top with mozzarella and a drizzle of olive oil (and more sauce, if desired).
Bake for 20 minutes or until the mozzarella is golden brown and bubbly.