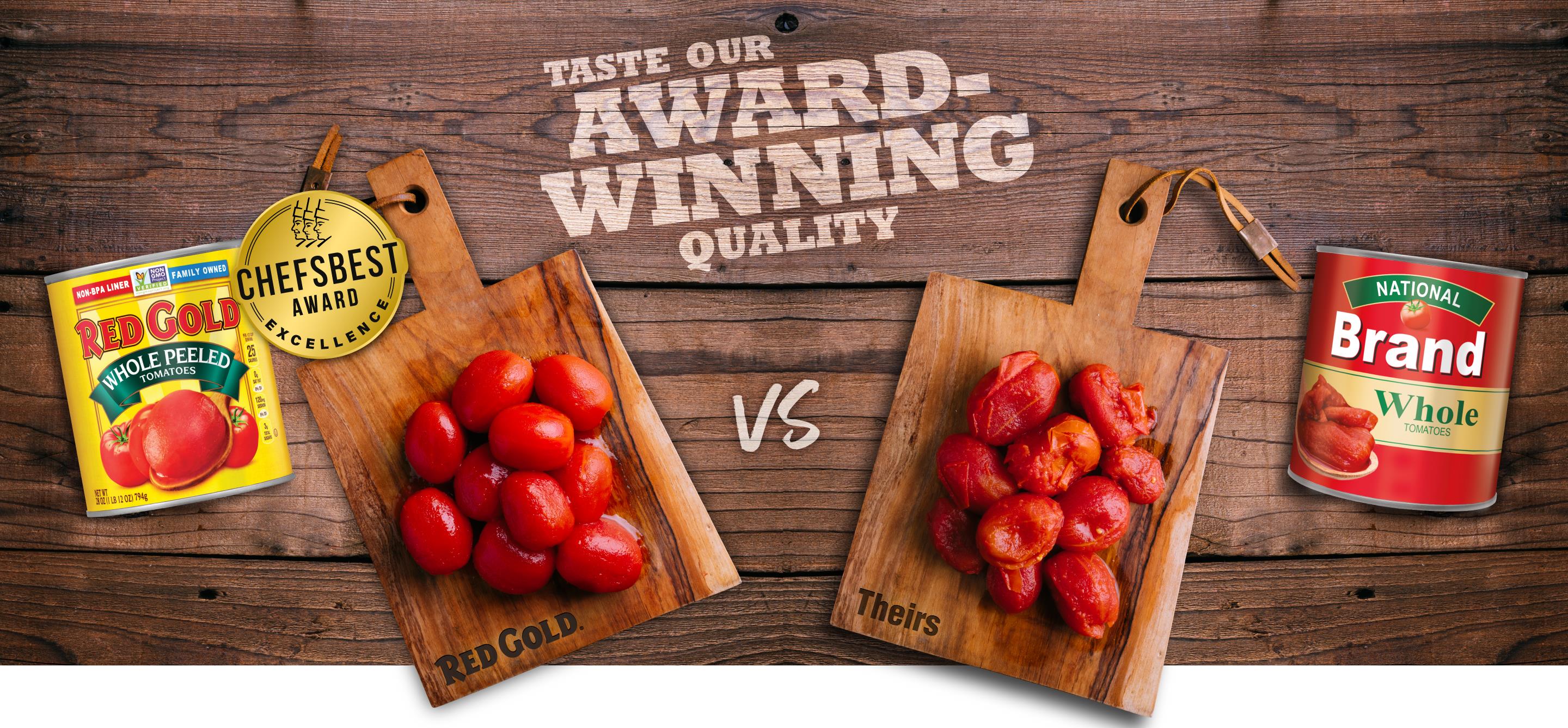 From family farms to your table, we give you our promise of unmatched quality.
Since first answering our nation's call to help feed the troops during World War II, Red Gold Tomatoes' and the Reichart family's mission has been to produce the freshest, best quality tomatoes available anywhere in the world. We proudly partner with over 40 Midwest family farms in Ohio, Michigan and Indiana to source our products, some of whom we have worked with for many decades. Being on the same latitude line as Italy, this part of the United States is the most ideal place to grow award winning crops year after year.
Our tomatoes are picked at the vine at the peak of freshness and because they are Steam Packed Fresh, there is never a need for artificial flavors, colors or preservatives. Red Gold's tomatoes are processed in one of our three award winning family-owned facilities and our Non-BPA/BPS lined cans ensure that you will be getting an off the vine tomato flavor with no unpleasant "can" taste.
In addition to being recognized with over 185 industry awards for quality, innovation, leadership, social responsibility and sustainability, we also recently won five highly prestigious ChefsBest® Excellence Awards. Nourished by the rain and the warmth of the Sun, we believe that our tomatoes are the finest on earth.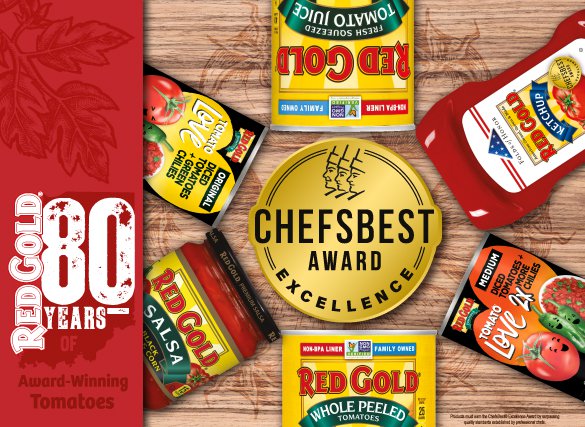 Award-Winning Canned Tomatoes
It is with great pride to announce that Red Gold Tomatoes has recently been awarded five of the highly prestigious ChefsBest® awards for our unmatched quality and flavor. ChefsBest's® mission is to identify and honor the best tasting grocery products in order to support the companies that make them and the people who choose to select them. Led by highly experienced moderators, ChefsBest® Certified Master Tasters utilize their knowledge, as well as a scientific methodology to determine a product's quality. If a brand surpasses accepted quality standards, they are given the highly coveted ChefsBest® Excellence Award. Utilizing their own proprietary judging process called Sensory Attribute Quality Analysis (SAQA), ChefsBest® determines what brands are of the highest quality and best tasting, which leads them to be recognized in a number of categories. At Red Gold, we believe that when you start with the best tomatoes, you end up with the finest products. For after all, tomatoes are all we do! In 2021, we were honored with five ChefsBest® Excellence awards in the following product areas: Juice, Salsa, Tomato Love, Ketchup, Whole Peeled Canned Tomatoes. On behalf of our Midwestern family owned growers and wonderful employees, it was a great privilege to be recognized with these highly sought after honors.
Our Tomatoes are Steam-Packed Fresh
For nearly 80 years, we have delivered on our promise to customers to provide them the freshest and most delicious tomato products available anywhere in the world. One of the many ways that we outshine other tomato brands in the market place has been the perfecting of our proprietary Steam Pack Fresh canning process, which naturally forces air out of the can, forming a completely air tight seal. In addition, our Non BPA liners create a barrier between the tomatoes and the metal in the can to protect the full tomato flavor with no "can" taste. Because we use steam, there is never any need to use artificial preservatives in our tomato products. The Red Gold family is very proud to have won over 185 industry awards for quality and innovation, in addition to most recently, five ChefsBest® Excellence awards. From family farms to your family's table, you can count on Red Gold to deliver only the best products with every can you open.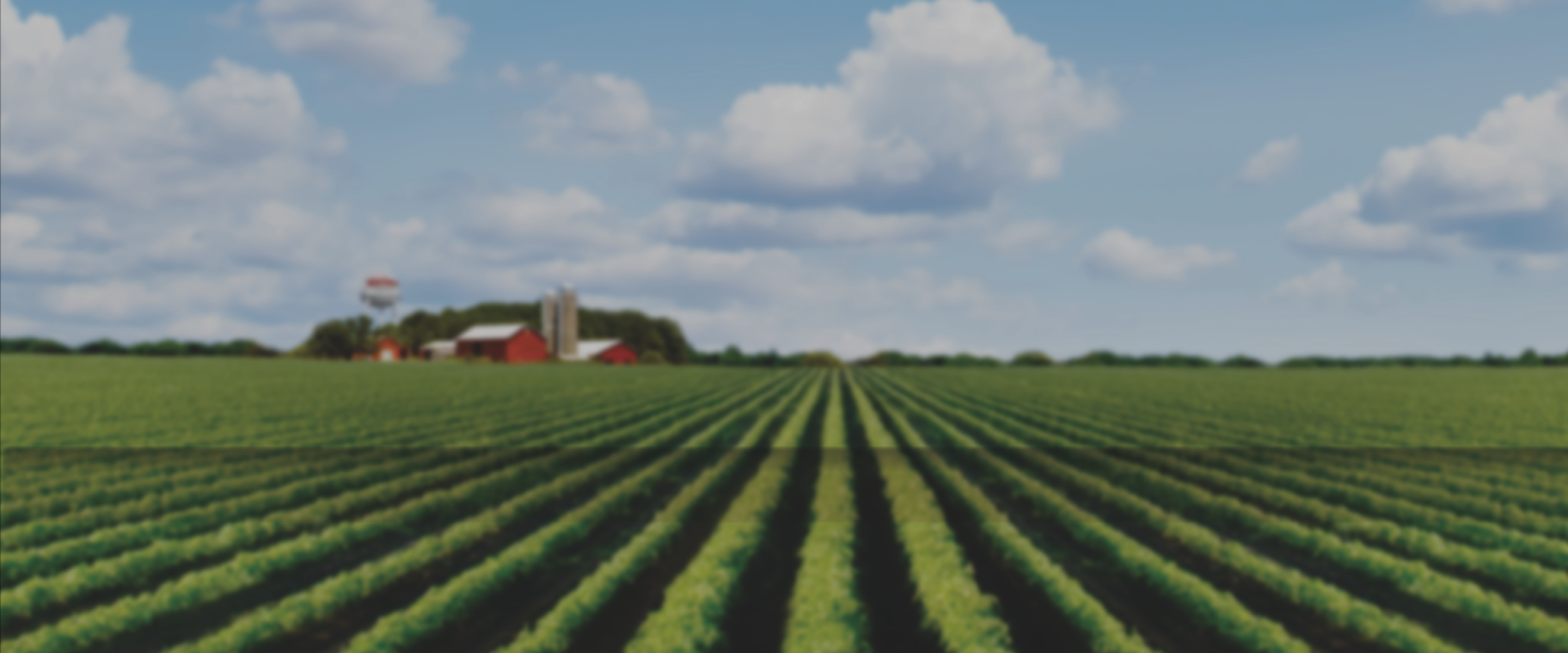 Tour the Red Gold Fresh Pack Factory
From field to Steam Pack Fresh cans, get a sneak peek into the journey of Red Gold Tomatoes.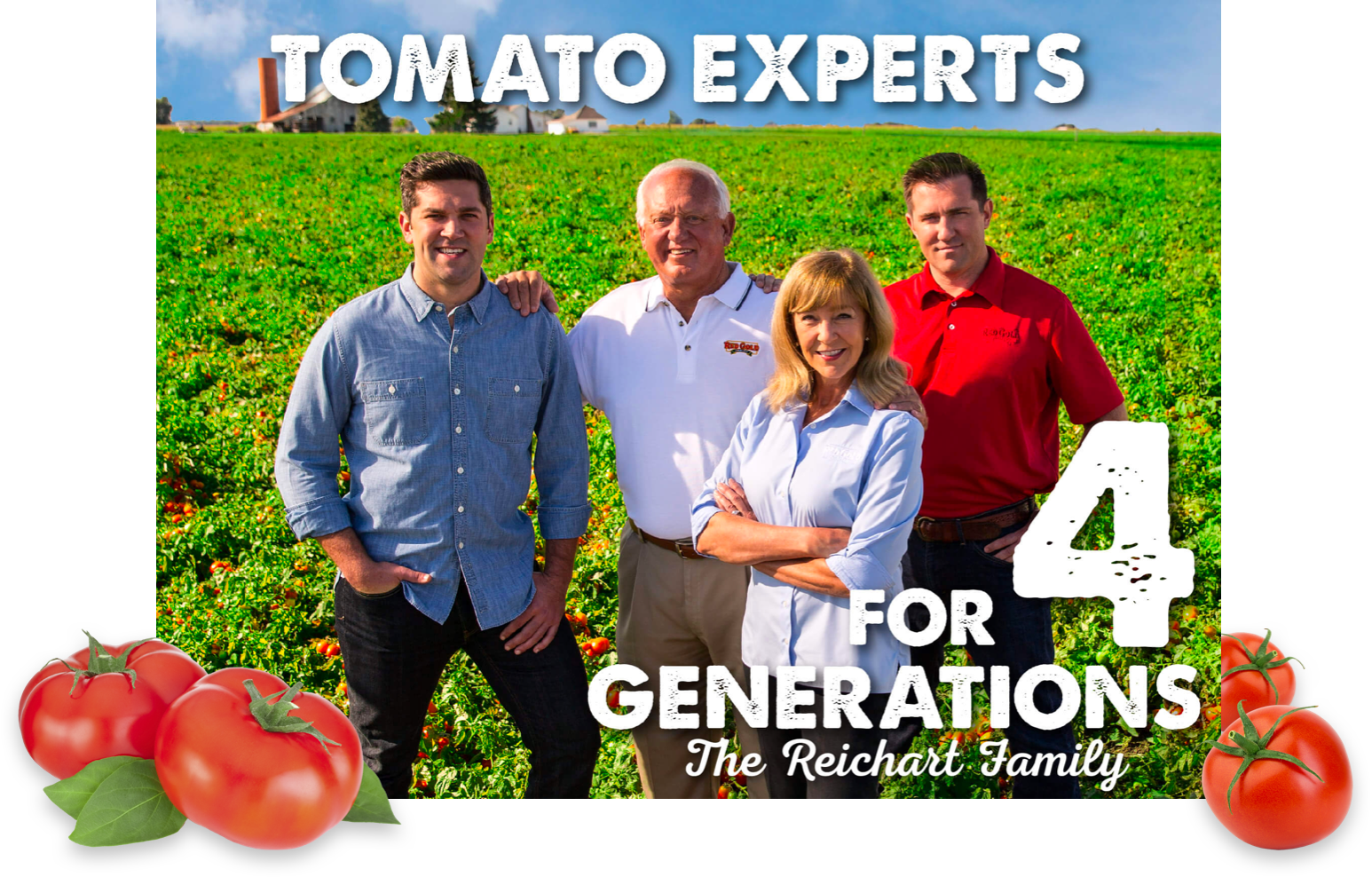 Our Family-Owned, Grown & Made Tomatoes
If you had to sum up Red Gold Tomatoes in one word it would be family. It is the concept of family that is at the heart of everything we do. When we first started canning tomatoes to feed our troops in World War II, we felt it was a sacred obligation to do our part to serve our country.
Today and four generations later, the Reichart family supports local Midwest economies by partnering with over 40 family owned tomatoes farms in Ohio, Michigan and Indiana to produce what we believe to be the freshest and most delicious tomatoes in the world.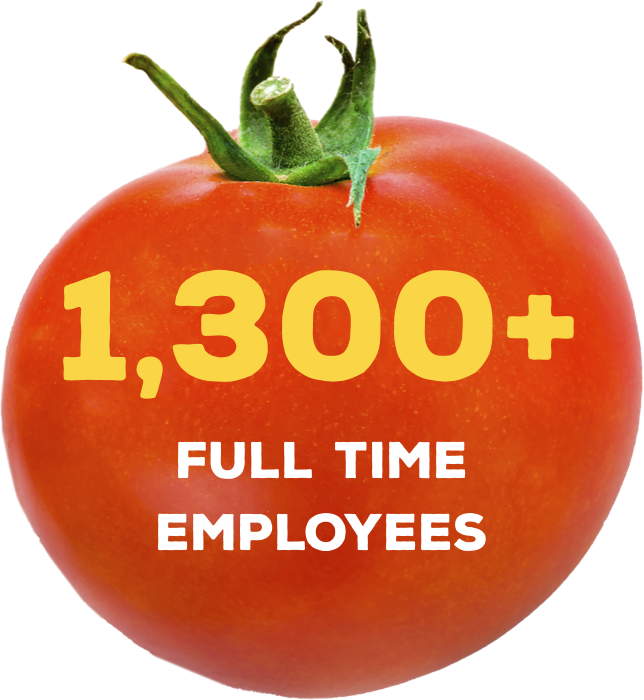 The Red Gold Family
The Red Gold family has grown quite a bit over the years, as we now employ 1,300 full time people as a part of our processing team, with another 650 joining us part time during harvest season. We go the extra mile every day by using Non-GMO ingredients and our innovative Non-BPA lined cans to ensure that the unmatched quality you expect from us is maintained.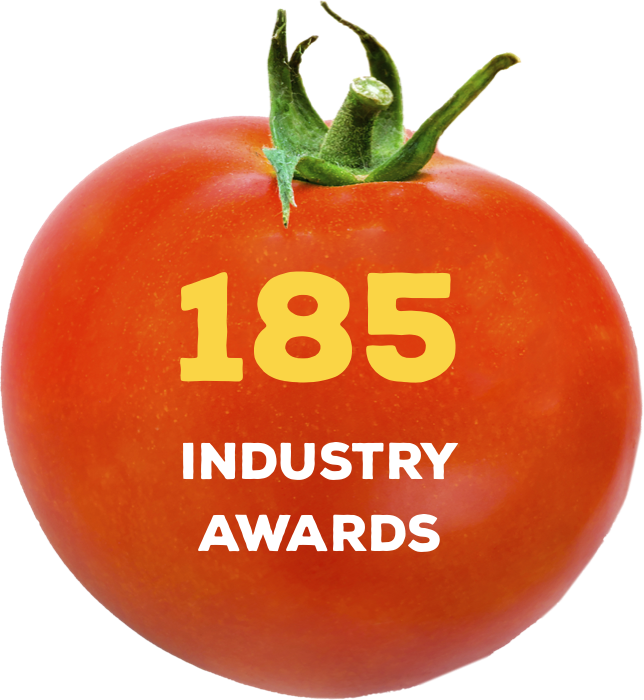 Award Winning
Having won over 185 industry awards for quality and innovation, as well as five of the highly regarded ChefsBest® Excellence awards, we are proud of what our family owned company has achieved for our customers. Evaluated on true tomato flavor, vine-ripe-red color, uniformity of size - perfectly plump, and strong tomato integrity, it is no surprise that our tomatoes beat out the competition.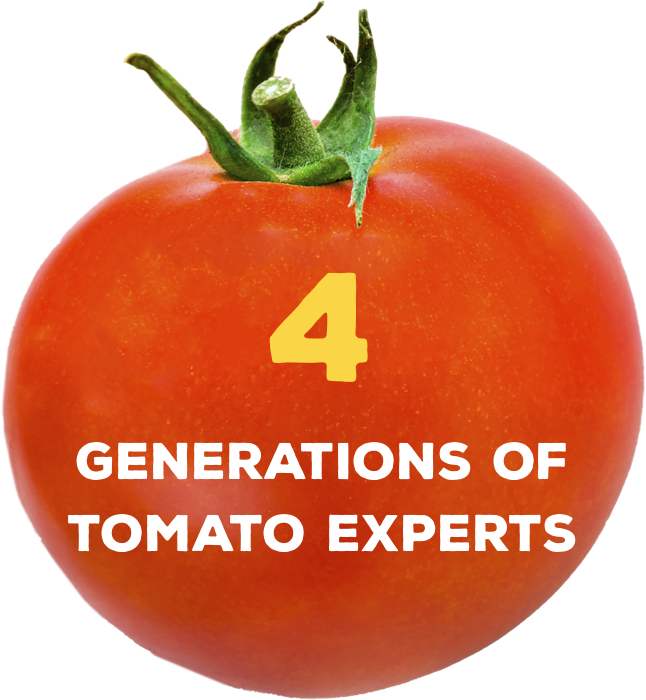 Family First
There is another family that is near and dear to our hearts and that is yours. When you gather for wholesome meals and quality time together with loved ones, we want the food you prepare to be special and memorable. We take great pride in the fact that you choose Red Gold Tomatoes. From our family to yours, you have our promise that we will always deliver the best and freshest tomato products that you have ever tasted.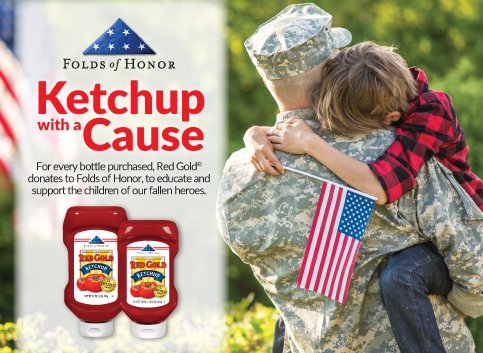 Folds of Honor
Red Gold Tomatoes has a rich history of serving the great men and women of our Armed Forces. In fact, our company got its start canning fresh tomatoes for our troops during World War II. The Reichart family continues that tradition today by participating in the Folds of Honor Foundation, which provides educational support to the children and spouses of those who have fallen or been disabled while serving our nation in the military. Red Gold has been featured on the Military Makeover TV show and donates a portion of the proceeds from every purchase of Red Gold Folds of Honor Ketchup to help support this worthy cause. From our 40+ Midwestern tomato growers to our 1,300 employees, everyone stands with our troops and is proud to play a role with such a fantastic organization as the Folds of Honor Foundation.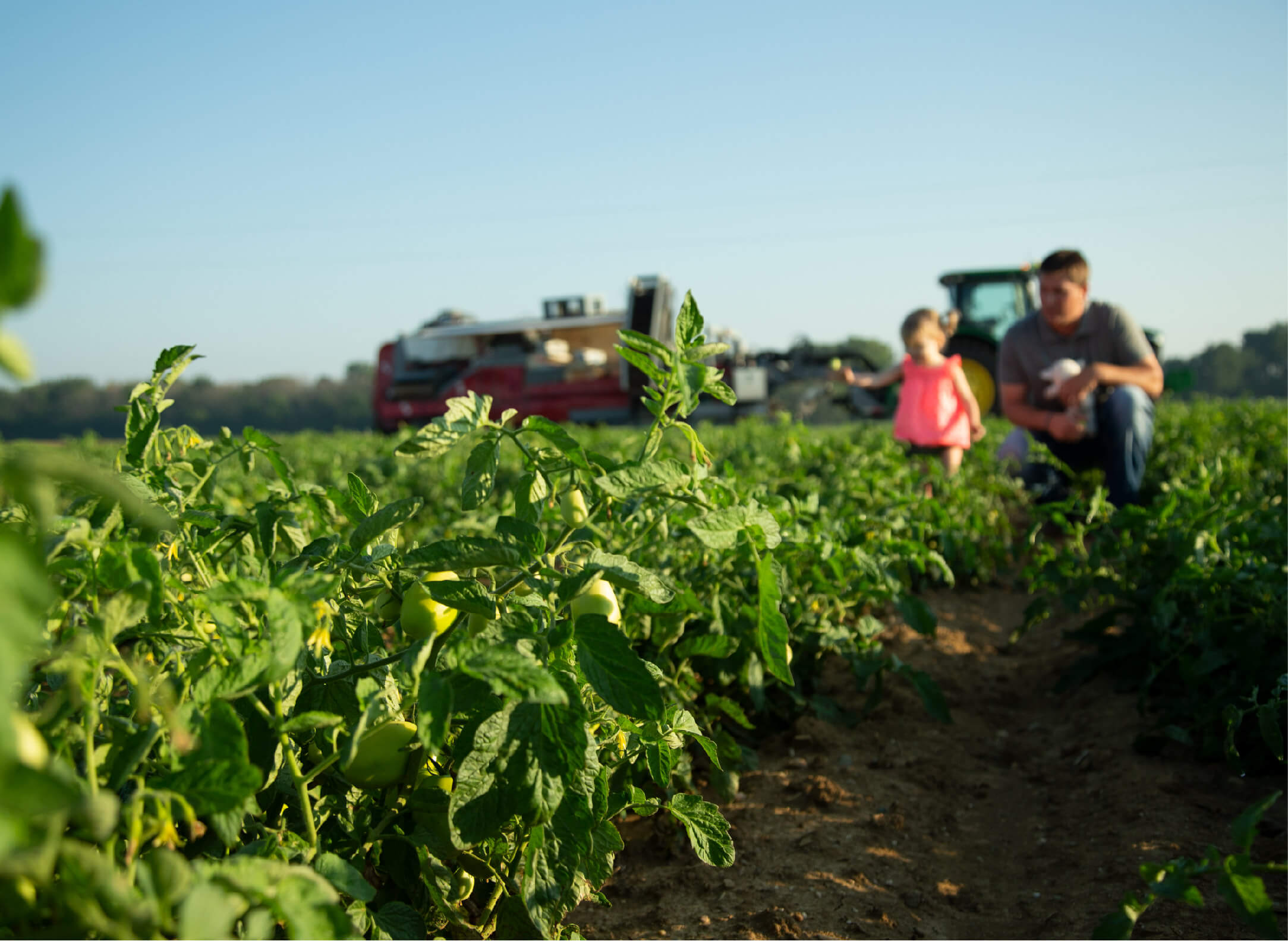 Our Growers
At Red Gold Tomatoes, we can only be as good as the products that our growers provide us. That is why we painstakingly select and partner with only the best Midwestern family owned farms in the states of Michigan, Ohio and Indiana. The Midwest is an ideal place to grow robust, delicious tomatoes due to its rich soil and abundance of sun and rain. In addition, because the Midwestern United States is on the same latitude line as Italy, we are blessed to be able to grow some of the best tomatoes in the world right here locally. Because we are a family owned company, we prefer to work with other like-minded family businesses. We partner with 40+ family growers, with many members going back multiple generations. Red Gold has worked with some of our top tomato producers for many decades. Our tomatoes are picked off the vine at the peak of freshness and because they are Steam Packed Fresh, there is never a need for artificial flavors, colors or preservatives. Our company wouldn't be successful without the unwavering commitment to quality that our partner growers deliver each year.
Real Farm Kids Take the Red Gold Challenge
Learn more about Red Gold family farms, and watch the Eck farm kids do a blind comparison of canned tomatoes to determine which ones are tomatoes grown on farms like theirs.